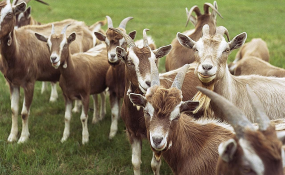 Photo: goats
By Loide Jason
Onkaankaa — Farmers at Onkaankaa village in Otamanzi constituency in the Omusati region are concerned about children who are allegedly involved in the theft of goats and chickens at the rural farming settlement.
Farmers revealed this during a community meeting held in the area organised on Wednesday by the Directorate of Marginalised Groups in the Office of the Vice President.
"I have an example of two children aged six and nine who slaughtered and ate up my goat. But fortunately enough their mothers approached me in a good manner and we have agreed that they must compensate my goat which they already did," said a local farmer.
Another farmer Asser Kornelius said he has lost 57 chickens from his farm stolen mostly by the stock thieves. Kornelius said that the situation has gotten out of hand and this could see farmers taking the law into their own hands.
The children accused of stealing chickens and goats no longer go to school as they only went up to grade three, as their settlement does not have a school for fourth and fifth graders.
Some of those children were placed at Uutsathima boarding school by the office of the Vice President but they left school and are now roaming around the village stealing livestock and vandalising water pipes.
Another farmer was furious that these children have become unruly and a menace to the community.
"I think these children stealing and slaughtering our animals are being sent by their parents. There is no way a normal, honest parent will allow his children to bring meat at home, and they will keep quiet about it. It is not normal at all," he lamented. The Director of Education in the Omusati region Laban Shapange said what was happening was a sign of a lack of good parenting; and urged parents to start disciplining their children.
"Charity begins at home. Parents you need to take good care of children so that they will start understanding the importance of being good and disciplined children," he said.
Meanwhile the meeting also heard that some women who are mostly involved in love affairs with cattle herders at the settlement are also stealing chickens and goats for the pot.