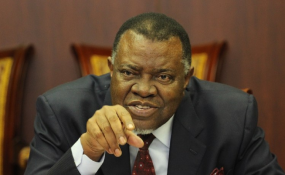 Photo: The Namibian
By Albertina Nakale
Windhoek — The foreign travel ban for all ministers and deputy ministers that was recently announced by President Hage Geingob to rein in expenditure, was yesterday extended beyond February.
Initially the president directed that no request for outbound travel by ministers, deputy ministers and other political office-bearers would be considered until after the end of February.
He however did not say when the ban would be lifted.
Following this period, Geingob yesterday said, all requests for foreign travel would be carefully considered by the approving authority. He instructed that upon return from each official engagement, political office-bearers or officials are required to report back, either through a press conference, workshop or through submitting a written report to Cabinet, which will in turn be presented to parliament.
Earlier, President Geingob imposed a ban on foreign trips for top government officials including ministers and their deputies, as well as political office-bearers in order to cut costs.
He explained the directive is specifically in the interest of curtailing public expenditure.
He said most senior government officials who undertake foreign trips go do "nothing at all" and travel for the sake of travelling.
"We recognize that we cannot completely ban all foreign travel. The intention is to exercise control and reduce the size of delegations," President Geingob elaborated. In exceptional cases, he noted, invitations for statutory travel must be properly motivated, and approval thereof be weighed against potential value gain. Accompanying officials will not be permitted without adequate motivation, he said.
Therefore, he said, he expects the other organs of state to join the executive and exercise due restraint.
The most recent actions have included him foregoing the use of the official presidential jet both on the December 2017 vacation and to the AU Summit in Addis Ababa, Ethiopia.
The president had instead chosen to use scheduled commercial flights as they proved to be more cost-effective for the routes he travelled.
This is not the first time President Geingob has imposed a foreign travel ban.
A month after he assumed power in 2015, he announced to Cabinet ministers, permanent secretaries and governors that no outbound travel requests by ministers would then be approved for them to focus on solving national issues.
During that year, the president did not mince words when he said some ministers went on global trips to claim travel allowances which ran into thousands of dollars.
At the time, Geingob had said that only the deputy prime minister, Netumbo Nandi-Ndaitwah, who is also the minister of international relations, was allowed to travel outside the country.
"As part of our objective to bring government closer to the people, consultation with stakeholders should become the norm, rather than the exception, in order to inform meeting preparations," Geingob stated.