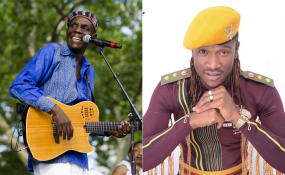 Photo: allafrica.com
By Nigel Pfunde and Peter Tinashe Kaviya
It's always noble to follow respected elders footsteps; even veteran musician Alick Macheso penned a song titled 'Murondatsimba' (loosely translated to following in the footprints) albeit furious that people were copying and emulating him.
There is nothing new under the sun, people always adopt and adapt concepts in all spheres of life.
The above 'philosophy' from 'philosophers of our kind was prompted by reports that man of the moment Jah Prayzah (JP) is on the verge of launching his own shoe range to be called 'Battlefield'.
This development was keenly confirmed by his manager Keen Mashapaidze to these writers. Mashapaidze said they were currently implementing a roll out strategy where they are testing the market and the launch will be in the first quarter of the month.
He was however not keen to disclose the price but he revealed that the shoe styles will be for low -middle and high end market.
This development is definitely a giant step forward in the music industry and for JP's career. He responded to calls from loyal fans and critics that he must commercialise his brand that is growing in leaps and bounds.
By his latest collaboration with Jamaican star Jah Cure, who knows maybe the 'Battlefield' shoe gear will cross oceans to the Caribbean Islands?
The interesting phenomenon or irony about this development is that at his peak, senior superstar Oliver Mtukudzi also launched his own shoe brand that he called 'Hai Kobo' inspired by his Katekwe dance routine.
So could the imminent launch of 'Battlefield' pose as a 'Battle of the Shoes'? Youngsters of today would call it a 'shoe game'!
Tuku is an iconic musician but in this battle victory will elude him, JP may be the conqueror in the battle.
To start with, when Tuku launched Haikobo, he lost the plot. His strategy worked against him. The shoe range was rather elitist as it was distributed in one upmarket department store in Harare and another one in the leafy surburb of Rosebank in Joburg.
This drove away the majority of his fans who couldn't afford the price of the shoe. The general consensus from the fans (market) response was "Hai Bodo" (No) we can't afford!
Although Tuku was said to have come up with the concept and design, he never really identified himself with the shoe label .It seemed as if some shoe manufacturer forced the idea on him and paid him off.
Unlike Tuku, JP has already started creating a hype before the launch. He has created hype on social media where he displays the samples of the shoes and interacting with his fans-cum-market.
It is also apparent that he has a market that is itching to step into those 'Battlefield' kicks.
From the visuals of the shoe style splashed on his social media pages- the style has a 'military touch' as has become his signature. Evidently, at his live shows the JP and Military Touch Movement regalia sells like hot cake thus giving him an edge. Given that information, JP has already won the 'shoe game' before it aint even started.
His move is actually commendable and he is setting the pace for the younger musicians just like Tuku set the pace that he (JP) is about to overtake come the launch in March.
It's good for the development of local showbiz now that artistes are commerialising their brands. In the United States, rapper Dr Dre who now co-owns a billion dollar headphones business under the Beats By Dre franchise.
Dr Dre met some chap called Jimmy Lovine at a beach and Lovine persuaded him to start that headphones range and 'boom' they billionaires.
It is not entirely clear who is JP's "Lovine' but our impeccable sources pointed to local businessman Tinashe Mutarisi who himself is a multi-millionaire with his paint company Nash Paints.
However, JP needs to be careful and employ a commercial manager who is knowledgeable on patent and intellectual property law. As a nation, we have struggled with regulating the sale of branded merchandise. Football teams can testify; authentic sports shops like Sunday Athletic lost business to dealers who sold fakes derogatorily known as 'fong kongs' (counterfeit) in football jerseys and JP must wary about this aspect.
Patenting his product is very key. JP's imminent launch of 'Battlefield' is a step in theright direction for local showbiz. There is need to monetise brans and in the 'battle of shoes' he has given Tuku a TKO even before the launch.
But perhaps after having been chased down from a funeral by a marauding horde baying for his blood, JP does need a safe trustworthy pair of shoes to ensure that he gets away from trouble when he plays flashy arrogant celebrity at testy funerals.
Nancy Sinatra, in a hot hit from way back once sang 'These Boots Were Meant For Walking'! Perhaps more aptly, JP's shoes were made for running!