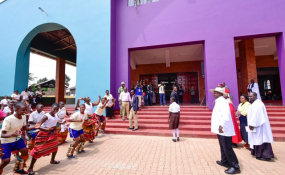 Photo: PPU
By The Independent
Fort Portal — President Yoweri Museveni has urged Ugandan religious leaders to seek a "disciplined way of interacting" with him and stop provoking him.
"I am somebody who knows what I am doing. I do not think there are many people who can lecture me about what to do for Uganda. Because to lecture you must have the qualifications to lecture," Museveni said on Saturday, before adding that "we should have a disciplined way of interacting. I have invited the religious people to come so that we talk thoroughly."
President Museveni was speaking at the the opening and commissioning of St. Elizabeth Chapel at Kyebambe Girls School in FortPortal on Saturday where he responded to comments by Bishop of Rwenzori Diocese Rt. Rev. Reuben Kisembo Amooti urging him to reconsider his stand on the recent Constitutional Amendment bill that lifted the age limit for the presidency. The Bishop had said the President should focus on a transition as soon as possible from him to the next president.
"To the bishop, I say read Ecclesiastes 3:1-3. It says there is time for everything," Museveni remarked. (see full reading at bottom)
"The country must be guided we have invested so much, cannot afford to make mistakes by anybody," Museveni said as Kyebambe girls cheered.
Museveni concluded his remarks by stating that it is fundraising that was the issue for the day, and revealed that government will contribute Shs300 million towards the chapel's completion.
The fundraising was one of three functions the President presided over in Kabarole district on Saturday.
Earlier, he had congratulated the Kyebambe community on building the chapel because spirituality is the foundation of a decent life. He said the Bible says "Seek ye first the kingdom of God and the rest will be added unto you."
"Use the chapel to pass the message of God to these children. It will help them. I can tell you, from personal testimony, that it will help them. To the students, develop positive attitudes and fear God. In all you do, remember God is seeing you."
The NRM introduced universal education. As a result, there is a significant number of educated but unemployed youths. I have been advising parents and other leaders to help us in the mission of re-skilling these young people and organizing them into groups.
Once in groups, we can support them to start income-generating activities, say acquiring a maize mill. We can give this to a group of ten in form of a soft loan or grant, which they can run and make money.
Buhinga stadium
Later on Saturday, President Museveni led a ground-breaking ceremony for the construction of a Shs6 billion stadium at Buhinga on the outskirts of Fort Portal Town.
He said similar stadia will be built in Bunyoro, Ankole and Kigezi, each to cost Shs6b. The stadia come with extras of a tennis court, hotel facility and other hospitality facilities.
"The public should know that government runs its programmes on the principle of prioritization. For example, while construction of a stadium is cheaper than a road, the latter is more critical for our economic development.
He gave the example of the Kamwenge road construction that cost Shs400 billion. "This would have built several stadia. Sports is a vital item especially to the youth but government has been handling other priorities first," he said.
Museveni said that as government resolves the other infrastructure concerns, government will no doubt gradually invest more in sports facilities.
"And before infrastructure was the question of insecurity, especially here in the Rwenzori region. People were worried about insecurity here but I assured you nobody could disturb our peace. We have a fully peaceful country now."
Kalya Courts Hotel
Museveni on Saturday also launched of Kalya Courts Hotel, owned by Isaya Kalya and his wife.
A retired Resident District Commissioner one of Mzee Kalya's childen participated in the NRA Liberation Struggle.
"I commend his family for establishing a hotel and promoting the hospitality industry. Tooro sub-region has got the Mountains of the Moon and a national park. There is a high tourism potential. The vital components in tourism are peace and nature. These ingredients are now in place."
The rehabilitation of the Mbarara-Katunguru road is in progress while rehabilitation of the Kasese-Fort Portal road will commence soon to boost tourism in the area. He said Tooro sub-region will also benefit from the construction of the Kyenjojo-Kagadi-Hoima- Masindi road, that will unlock the tourism potential not just of Bunyoro but Tooro.
"We shall also look at the issue of "unfair" Value Added Tax (VAT) raised by Mzee Kalya. We shall discuss it, especially its impact on upcountry businesses. I will also support the women's group that is engaged in the production and export of a variety of crafts that include baskets for baked millet (ebiibo)."
Ecclesiastes 3:1-3
There is a time for everything,
and a season for every activity under the heavens:
2 a time to be born and a time to die,
a time to plant and a time to uproot,
3 a time to kill and a time to heal,
time to tear down and a time to build,