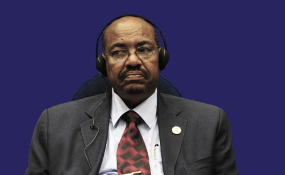 Photo: IRIN
By Mohammed Momoh in Khartoum and AFP
Sudanese President Omar Bashir has replaced his Intelligence chief Mohamed Atta, state news agency (Suna) reported.
Suna on Sunday published a presidential decree announcing Mr Salah Abdallah Mohammed Salih as the new head of the National Intelligence and Security Services (NISS).
Mr Atta's sacking comes amidst a sustained clampdown on protests organised by the opposition against the rising food prices.
Bread prices
Khartoum has battled protesters angered by the higher bread prices occasioned by a government decision to leave wheat imports to the private sector.
NISS agents and anti-riot police have swiftly broken up the protest gatherings in Khartoum and some other parts.
The presidential decree also announced the pardoning and re-appointment of Mr Sala Gosh as a director of Intelligence.
The accusations
Mr Gosh fell out with President Bashir after being accused of involvement in a coup attempt in 2012.
He was then serving as a presidential security adviser, having been replaced by Mr Atta in 2009.
Following the accusations levelled against him, Mr Gosh was put in detention where he stayed for about one year together with other senior army and Intelligence officers.