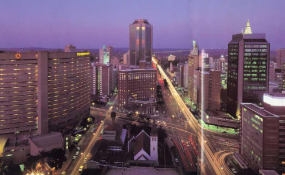 Photo: 263Chat
Mutare — Zimbabwe should desist from a culture of fighting capital if the country is to attract foreign direct investment in post-Mugabe era, a business consultant has said.
The Mugabe administration, toppled by a military coup last November, was notoriously suspicious of private enterprise, often accusing businesses of hiking prices as part of what the government described as a regime change agenda.
Tanganda Holdings finance director, Henry Nemaire, told a business dialogue held in this eastern border city last week that Zimbabweans should properly interrogate what attracts foreign capital.
"It's time for us to interrogate what makes capital happy or unhappy to be in Zimbabwe," said past-president of the Confederation of Zimbabwe Industries (CZI).
"We have to shake off the culture of the Mugabe-era where people would fight capital for personal gains. It's a retrogressive and a communist culture which portrays business as enemy
of the community."
Nemaire cited a recent newspaper article which sought to compel Econet subsidiary, Kwese TV, to partner and bail out the local football league.
"He (the writer) simply got it wrong because Kwese TV is not mandated to partner local football league. Capital should not be forced; it is not amenable to command partnering.
"Has DStv been forced to partner local football? It's up to Kwese to partner the Mozambican PSL or Nigeria football clubs.
"In the new dispensation if we want to see (Econet founder) Strive Masiyiwa flying into the country with business partners, we have to change our culture of doing business."
Zimbabwe, Nemaire continued, should emulate the enabling attitude towards capital evident in better run economies.
"There is a culture adopted by developed countries such as UK, Japan, Turkey and others where they support capital.
"They support Toyota, Unilever and it is the same businesses that support exports. It is Tanganda, Uniliver and Meikles that will grow the exports not government.
"Zimra is fighting capital every day. There is nowhere in the world where business is penalized 100 percent daily. This is too punitive and discouraging."