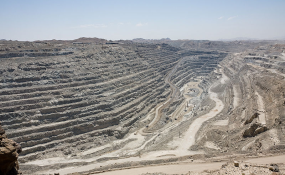 Photo: Ikiwaner/Wikipedia
By Sakeus Iikela
The Swapo Party Women's Council (SPWC) plans to compel government to prioritise women when allocating tenders for development projects, fishing quotas as well as housing and mining ventures.
This is stipulated in the SPWC's five-year strategic plan launched on Saturday in Windhoek, aimed at promoting projects for women's empowerment and to address gender disparities, amongst others.
The women's council secretary, Eunice Iipinge, said the plan was developed as a guiding mechanism to help with the effective and efficient implementation of the party's congress resolutions at party structures and government level.
About N$6,5 million is required to implement projects set out in the plan which includes policies to compel government to implement a requirement of 50-50 shareholding in all companies receiving public tenders.
The women's council also wants government to set aside a number of hectares of farmland for women "in order to allow women to participate in medium and large scale-farming practices".
The plan states that of the N$6,5 million budget, N$2,5 million will be for projects aimed at achieving the upliftment of women, and ensuring full participation "in the struggle for economic and cultural emancipation".
This will be done through the appointment of a gender expert and economist to draft a proposal for gender mainstreaming in the Swapo party structures, and to "assess current budgets and provide solutions for a gender sensitive budgeting system".
About N$1,3 million will be used to implement miscellaneous projects, such as developing a strategy and action plan that will help with the effective and efficient implementation of congress resolutions at government level. Another N$1 million will be used to set up exchange programmes with "international sister organisations and forums" in promoting international solidarity.
Large amounts of money will furthermore be spent on projects aimed at bringing about women's full participation in productive work, and on initiatives looking to formalise domestic work.
The council, through the five-year plan, promises to campaign for the setting-up of sufficient nurseries, schools and boarding schools, and to spearhead gender awareness campaigns to put an end to gender-based violence through "education and rehabilitation".
This will be done through SPWC structures in all 14 regions, and these initiatives will require about N$1,7 million to implement. Most of the goals will be implemented by the women's council's secretariat, and a few by regional coordinators.
During the launch, Swapo secretary general Sophia Shaningwa urged party members to unite in the interest of the party, and to forget about events which happened before last year's party congress.
She also urged women to refrain from entering into sexual relationships for political gain, but to work hard and prove themselves in leadership positions and in the corporate world.
"Never open your legs to be pushed on a wheelchair for a position [...], prove yourself that you can do the duty and you can perform not because someone has to lay you in bed for a position.
"It undermines your capacity, your capabilities and your intellect to stand on yourself as a woman (sic)," Shaningwa said.