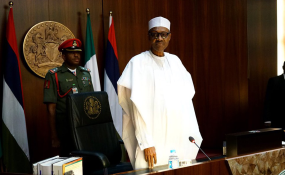 Photo: Presidency Nigeria/Twitter
By Isiaka Wakili
President Muhammadu Buhari has directed the security agencies to, at all times, be ahead of bandits and criminals wherever they are across Nigeria.
President Buhari said the security agencies must do this by efficiently gathering, sharing and acting on credible intelligence.
Buhari, in another statement he posted on his twitter account last night, said he issued the directive at the Aso Rock Presidential Villa in Abuja at a meeting of the National Security Council he presided over earlier in the day.
"One of the resolutions from our Security Meeting today (Monday) is that all our law enforcement agencies must take intelligence-gathering and sharing much more seriously. The Police and DSS especially have been charged to step up their efforts and capacity in this regard.
"Our law enforcement agencies must at all times stay ahead of bandits and criminals, wherever they are across the country, by efficiently gathering, sharing and acting on credible Intelligence," the president tweeted.
President Buhari assured that his administration would give the security agencies all the support needed to succeed.
Buhari also assured that "all persons arrested so far, including those arrested for illegally possessing arms, will be duly prosecuted."
The president urged judicial officers "to be alive to responsibilities in this regard to enable the speedy dispensation of justice."