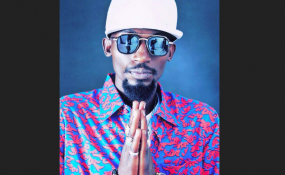 Photo: Radio and Weasel/Facebook
By Sulaiman Kakaire
When news of the death of Moses Ssekibogo Nakintije popularly known as Mowzey Radio flowed in from Case hospital at Buganda road, its reception was confirmation of how much the young man was an embodiment of Uganda's social life.
The anxiety to confirm the sad news had thousands throng to Case hospital, where he had been admitted for almost a week, to find out whether this was not a mere prank. Well, it is confirmed; the world is one radio short.
Radio's voice and creative mind that imagined Uganda's lifestyle for almost a decade is gone, save for his recorded works that will stay in our ears and eyes as we reminisce his live performances with music partner and best friend, Weasel aka Douglas Mayanja.
"Those vocal cords have now gone silent, leaving us with a bountiful archive from which we shall eternally remember the uncontainable, wild, free spirit of Mowzey," wrote John K. Abimanyi, a former entertainment writer who once covered East Africa's dynamic duo, Goodlife crew.
Like Okot p'Bitek observed, "The artist creates the central ideas around which other leaders, lawmakers, chiefs, judges, heads of clans [and] family heads construct and sustain social institutions". Radio influenced the social life of ordinary Ugandans.
He inspired many through his music of about 200 songs that include Potential, Magnetic, Ngenda Mumaaso, Neera, Tubonga Naawe and Obudde.
Radio's ascension to the lofty heights of Uganda's entertainment industry is traced to a humble background in little-known Bukaya village, Njeru town council, Buikwe district, where he was born 35 years ago.
Tony Otoa, who grew up with Radio in the migrant-dominated Bukaya, told The Observer the deceased music maestro's humble background was motivation for his hard work that defined his life journey.
"He was staying with his aunt... I can't say he was from that affluent family. But, I got to know him so much when he joined Holy Cross [Lake View] Secondary School Wanyange, a Catholic-founded school majorly known to be a school for orphaned children," he said.
Otoa himself was two years ahead of Radio at school, but the two bonded when the latter joined the church choir.
"He was a very active member of the church. In fact, I would say I had some influence on him. Around 1997 and 1998, I and a lawyer friend of mine, Emmanuel Emoru, we used to storm Jinja town discotheques to do rapping and Mowzey used to follow us... he used to be the mix as a vocalist," he said.
Radio's humble origins was motivation for his working hard.
"We used to interact and you would feel his visionary mind," Otoa said.
During his time at Wanyange, Radio, in one of his leadership roles as president of the school's Youth Alive Club, composed musical projects that propelled his club to success in inter-school Youth Alive Club competitions.
Radio never let his music prowess get into the way of his academic journey. In fact, his good grades enabled him to join Kiira College Butiki, where he served as a prefect and scored 22 points, which enabled him to be admitted to Makerere University on government scholarship to study community psychology.
SELF-DISCOVERY
In 2005, while studying at university, Radio embarked on a journey of self-discovery that led him into the then leading afro-beat music grouping, Leone Island, owned by Jose Chameleone aka Joseph Mayanja. It is at Leone that Radio met Weasel and also recorded his first single, Jennifer.
Commenting on Jennifer, Abimanyi said although the song was a bit rough on the edges, it signalled his serious talent waiting to be refined.
"By the time Sweet Lady [his second single] came through, he had found his rhythm, and the rest, as we now see, is history," he said.
By the time Radio joined Leone Island, Weasel had also done some singles including Nakupenda and Ritah. Although Chameleone gave the Leone boys some opportunities to authenticate their identity in the industry, they remained in his shadow as they performed more as his backup singers.
BREAKTHROUGH
It was not until 2007 when he completed his studies from Makerere University that he embarked on a real journey of his music career.
Radio did not merely launch onto the scene by breaking away from Leone Island and forming Goodlyfe Crew, but did works that would define him.
First, he teamed up with Weasel and Omulangira Ssuuna for the breakthrough single, Nakudata, which emerged as the 2008 song of the year at the Pearl of Africa Music awards.
Abimanyi said: "There was an X-factor about [Nakudata] that made you feel you were listening to something special then. It was a powerful statement of intent, a sounding of war drums that announced the arrival of a new music force with real staying power."
During the same year, Radio and Weasel released other singles including Lwaki Onnumya and Zuena. The latter (Zuena) was voted the best AfroBeat single of 2008 during the Pearl of Africa Music Awards and their music group was voted 'best new artiste'.
After gaining traction with the awards, the duo dropped hit after hit including Nyambura, Nakutamani, Potential, Heart Attack, Ability, Kuku, Bread and Butter, You Make Me Cry, Pollination, etc.
VISIONARY REVOLUTIONARY
Speaking to The Observer, songwriter/singer Sylvester Kyagulanyi described Radio as a visionary and revolutionary in his own right.
"He was free-spirited... the strength in spirit defined him. When he left Leone Island, it was hard to tell where he was heading but time proved him right. This showed how much he believed so much in what he was doing. He had a vision," he said.
By the time Goodlyfe launched, there were several music groups that had come up but died without seeing the light of day. Last year, Radio and Weasel celebrated a decade of working together.
"They broke the sync or yoke of the conventional... that was very powerful. Their music reflects how we live but at the same time embraced globalisation... expression of freedom of people to go out of the conventional approach to life," Kyagulanyi said.
GREAT POET
As a songwriter, Kyagulanyi says, Radio was special in the sense that he had ability to express himself.
"He was an intoxicating artiste. You would not listen to his music and not feel him. You would listen to his voice shouting deep down in your soul. We could have different styles of song writing but I have grown to respect him. When you examine the lyrics of songs like Tambula Nange, Neera, he was simple like a flower but conveying a very strong message," he said.
Artistes who closely worked with Radio say he was a great poet who would come up with a composition in minutes, without much ado.
One such hit was the duo's collabo with Irene Ntale, Bikoola, a love song describing love through African weather and scenery. Actor John Ssegawa said Radio's craft was exceptional poetry that must be understood from a social context.
"When you look at his lyrics, they show someone who reads. You would go to his home and find books. I would urge other artistes to read, be it a Bible, Qur'an or newspaper; any written stuff... it helps you have an analytical and imagining mind," Ssegawa said on one of the local televisions.
CONTROVERSIAL MESSAGE
Radio's phenomenal music career was not only defined by inspiration and love, but it also drew controversy to himself. For instance, Goodlyfe's single Zuena was inspired by Bebe Cool's wife at a time when she had left the Love You Everyday singer. Bebe received it as a mockery of his life.
The duo's hits Ngenda Mumaso, Sitani, Ability and Kiduula, though consumed innocently by adoring fans, were loaded with anger and vengeance, speaking to Radio's then nemeses in the industry, including Chameleone and AngeNoir discotheque that had banned them for their rowdy behaviour.
But, his music's biggest controversy happened in 2016 when Radio composed and also sang Tubonga Naawe in praise of President Museveni's presidential bid. The song came close to shutting down the careers of participating artistes as angry fans boycotted their music for some time.
Despite his altercations with various colleagues in the industry, Swangz Avenue producer/singer Benon Mugumbya said Goodlyfe is one musical grouping that has collaborated with several artistes in Uganda, which is commendable.
"He is one of the artistes with music with other people. This blending was good for the market," Mugumbya said.
Radio and Weasel had collabos with Chameleone, Wizkid, PJ Powers, Zambia's General Ozzy, David Lutalo, Ziza Bafana, B2C, Irene Ntale, Spice Diana, Fille, Rabadaba, Khalifa Aganaga and more.
STRUCTURAL CONSTRAINTS
Radio's story speaks to the plight of Ugandan artistes' challenge that despite enormous contribution to Uganda's social fabric, they are rarely rewarded for their creative works due to a weak legal framework for intellectual property.
Indeed, musician Pallaso aka Pius Mayanja said during Radio's vigil at Kololo ceremonial grounds: "Despite Radio's good works, his children are going to eat dust as other people reap from his works... I urge government to help us and come up with a good legal framework to enforce the rights of people in the creative industry."
On his part, Kyagulanyi said Radio's works could have made him a billionaire if he was in a system that cared for the arts.
"Artistes do not need money but want an environment that helps them reap from their works. We are in a struggle for this as writers and artistes to see that those who come after us inherit a good environment," he said.
TOUCHING BASE
Year 2018 was a new dawn for Radio to touch base with his foundation in the church. His latest productions under the Angel Music label invoke feelings of someone who had submitted to the will of God.
Tambula Nange, for example, has become a hit in the wake of Radio's death. Otoa, who talked to Radio a few weeks before his demise, said he was on a new musical journey with Angel Music.
Otoa said Radio has been a religious person and caring to the needy. On his deathbed at Case hospital, he received his last sacrament, something those who know him say must have meant the world to him.
At the time of his death, it is reported that Radio had 68 songs waiting for release by Goodlyfe, local and international artistes. He is survived by five children.
He is also survived by over 200 songs, 11 albums and one heck of a legacy. He achieved all that in just 10 years. On Saturday at Kagga, Nakawuka, the world laid to rest one of Uganda's greatest musicians of all time.
skakaire@observer.ug