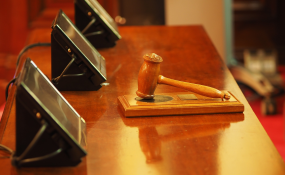 Photo: Pixabay
By Evelyn Okakwu
The trial of the alleged mastermind of October 1, 2010 bomb blast, Charles Okah continued on Monday, with the prosecution seeking to affix a stamp on an evidence already before the court.
The prosecution counsel, Alex Izinyon, told the court on Monday that his client would like to affix a stamp on the evidence alluded to by the first prosecution witness, John Afolabi, in April 2015.
Mr. Okah is facing trial for allegedly being behind the October, 1 2010 bomb blast which occurred at the Eagle Square, Abuja and resulted in the death of over a dozen people.
The prosecution has also alleged that the bomb blast was intended to kill the former president, Goodluck Jonathan.
Mr. Izinyon told the court on Monday that his client intends to regularise the said document by affixing the requisite stamp.
He noted that the document contains a list of items alluded to by Mr. Afolabi
Reacting to the application, however, the defence counsel, Oghene Otemo said the document intended to be regularised has been in court for a long time, and that his team had addressed the court on the failure of the prosecution to affix a stamp on the said document.
"The application of the Prosecution Counsel is alien and unknown to law. It is unknown to the criminal procedure of Nigeria. Granting the application will amount to mistrial of the defendant.
"Granting of application upon presented facts, at this stage of the case, will orchestrate a serious miscarriage of justice. It is an abuse of court process," Mr. Otemo said.
The trial of the accused has reached an advanced stage. Following the court's decision for Mr. Okah to begin his defence, earlier in 2017, the defendant ended the defence in December 2017.
The trial judge, Gabriel Kolawole adjourned the matter till February 21 for ruling on the prosecution's application.