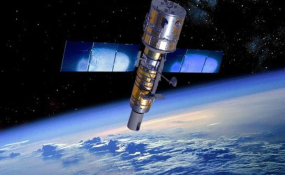 Photo: Premium Times
By Nkechi Isaac
Nigeria's satellite, NIGCOMSAT 1-R will be deployed for live coverage and transmission of results of the 2019 general elections, the Nigerian Communications Satellite (NIGCOMSAT) Ltd has said.
Its managing director/chief executive officer, Abimbola Alale, stated this when she received a delegation of the Independent National Electoral Commission (INEC) led by its chairman, Prof. Mahmood Yakubu, at the organisation's corporate headquarters in Abuja.
She told the electoral officers that NIGCOMSAT was ready to partner INEC in transmitting election results to every nook and cranny of the nation.
INEC boss, Prof. Mahmood, who expressed satisfaction with what he saw at the agency, said the aim of the partnership between the organisations was to extend satellite coverage to areas and dark spots currently not covered by 3G and 4G networks.
He said: "It is for this reason that we wish to leverage on the capacity of NIGCOMSAT to provide a wide range of telecommunications services. In particular, your broadband service offers a tremendous flexible bandwidth capacity that can be deployed almost anywhere and in a short period of time, including hard-to-reach and temporary locations.
"These are invaluable to the work of INEC. Working with you and in partnership with the NCC as well as the telecommunications operators, we believe the challenges to the seamless transmission of results are not insurmountable."
He added: "We are similarly aware that NIGCOMSAT has the capacity for direct-to-home (DTH) broadcasting, multimedia, video streaming, hotspot event services and indoor and outdoor electronic message displays. These services are invaluable to our work on voter education, sensitisation and mobilisation for elections.
"Accordingly, as we prepare for the 2019 general election, INEC wishes to collaborate with NIGCOMSAT in the following areas: Extension of satellite coverage to areas currently not covered by 3G and 4G networks (the so-called "black spots") so that INEC can transmit election results from each polling unit nationwide irrespective of location; and voter education and sensitisation through electronic message display."
The INEC chairman said the commission was deepening its application of technology to elections hence the partnership with NIGCOMSAT, pointing out that the electoral body would continue to make available the hard copies of result sheets to political party agents at each polling unit and collation centre against which the integrity of the electronically-transmitted results could be compared, verified and authenticated.
"In keeping with our current practice, a copy of the result for each election shall be pasted at the polling units immediately after the counting of ballots for public knowledge and accountability," he added.