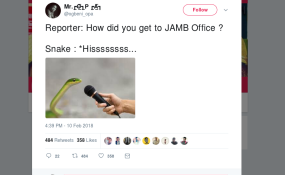 Photo: ogbeni_opa/Twitter
Nigerians have reacted to reports that an 'unidentified spiritual snake' had eaten and ingested the sum of N36 million realized from the sales of scratch cards by Joint Admissions and Matriculation Board (JAMB), in Makurdi, Benue State.
Daily Trust on Monday reports that the retail clerk would be held responsible for the missing money.
Nigerians took to twitter to express mixed feelings over this development.
Below are some reactions to the story:
Naija press no go kill Persön.. Strange snake swallows N36 million cash in JAMB office 😂😂😂😂
- SAMKLEF X S K E L E B E (@SAMKLEF) February 10, 2018
With Full TSA implementation, Snake can still swallows N36 million cash under Buhari.@APCNigeria@OfficialPDPNig @
- Robert Arome Eboh (@eboh_robert) February 11, 2018
Breaking News: Strange Snake swallows N36 million naira cash at Makurdi JAMB office.
This is part of the confessional statement of one of the JAMB office staff in charge of the money.
Corruption is an epidemic is this country
- AJIBOYEE (@T_Reformer) February 10, 2018
Mystery Snake swallows N36.0 Million Jamb sales proceed in Benue...Very possible in Nigeria. Congrats Naija😩
- Hansen Ivara (@HansenIvara) February 12, 2018
Strange snake swallows N36 million cash in JAMB office. True or False?
JAMB Question; 100 marks.
Discuss. 💭 🤔
- DaddyMo 🖖🏾🔴 (@officialdaddymo) February 10, 2018
"Snake swallows 36 million naira from jamb office"
Snake = also used to describe deceitful and insincere people.
Nigerian politicians & officials = snakes.
A human being probably stole that money but as usual they've made a joke out of it to distract us from the truth 🤷🏽‍♀️
- Ifeoma Billion Nwobu (@Ifeoma_Nwobu) February 11, 2018
Animals everywhere..
Python dances in the East and South.
Crocodile smiles in the west.
Rat chase Buhari out of office.
Cows roam in Benue and Taraba (North)
Snake swallows money in JAMB office, Markurdi
Animals reigns Supreme in Nigeria 😀😀 pic.twitter.com/NnaV38iMRc
- Christian C. Ozor (@ozorcchristian) February 12, 2018
Snake swallows N36m JAMB money! Pls God have mercy on Naija...
- Kingsley Clem'Phenom (@Phenom2487) February 12, 2018
This one that snake now swallows Money in our society
We know reptiles swallow blood running livings
A far fetched reasonable submission would be better
Our Government is full of lies and mischievous
Our mumu don do,Biko nu.#jamb, ogini?
- chuquka (@chuka_60571) February 11, 2018
A day will come that all of us will realise that no party deserves a sapient that swallows money & that to clean our polity all money eating snake must be annihilated. #Jamb
- Ibrahim Garba (@Garbaibrahim1) February 10, 2018
It is only in Nigeria that snakes now swallows money,as snake spiritually swallowed 36million from jamb office...
- Destiny Etim (@Asudessy) February 10, 2018
Strange snake swallows 36million cash from JAMB office... Okay they connived to steal the money using a spiritual snake. So where is the money. Abi d snake did not vomit it ni..
This can only in Nigeria and it has pic.twitter.com/BAP8XIeu5W
- Dashingking (@dashingkingseb) February 10, 2018
"Strange snake swallows 36 Million in Jamb hq"
First off, strange snake? Strange?
How in the world is money part of a snake menu?
Or "snake" is someone that turned against them and took the money
Or they just looted it, simple. no need to blame it on a "strange innocent snake"
- ariz (@ArizonnaHarry) February 10, 2018
So Snake swallows #36m of JAMB money in Nigeria! It is sad! Painful to know that this was aided by a woman.
- Yomi Akinsola (@yomiakinsola) February 10, 2018