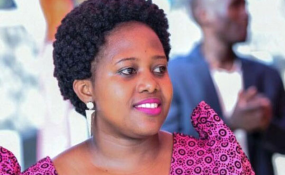 Photo: Daily Monitor
By The Independent
Kampala — The search for the whereabouts of Suzan Magara, 28 years, a cashier at the Bwendero Dairy Farm in Kampala continues a week after she was reported missing.
Magara's car was found abandoned 100m from her residence in Mengo, Kampala on February 7. She is daughter of John Fitzgerald Magara, a resident of Regina Estate in Lubowa.
Police have appealed for help in investigating the disapearance, that many fear is a kidnap case.
In a statement on Monday, Police said they are "investigating the disappearance of one lady called Suzan Magara who went missing the night of Feb 7, 2018 around Mengo. Our technical teams are working with the territorial police to find her. We therefore appeal to all and those who could have a clue on her whereabouts sto give us this information either in confidence or openly. However, fraudsters who want to cheat the aggrieved parents should desist from this practice."
Send information to police through these numbers 07714 667784 or 0714 667 785 or 0718 946007.