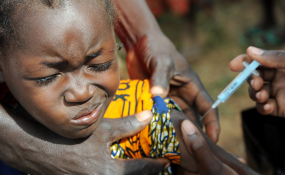 Photo: Vanguard
By David Ajikobi
Has the health of Nigerians improved over the last decade, at least according to eight key indicators? We examined the trends revealed by a series of major surveys.
Healthy people are the foundation of healthy economies, the United Nations states . And former US first lady Michelle Obama noted that a country is only as strong as the health of its women.
As Africa's most populous country and one of its biggest economies, Nigeria's health indicators are of national concern . What does the latest data tell about the country's well-being?
The UN's child agency Unicef does major surveys tracking the health of women, men and children globally. Known as Multiple Indicator Cluster Surveys (MICS), the latest one for Nigeria was released in late 2017.
It covered 3 3,901 households across Nigeria between 2016 and 2017 , with 15,183 men and 34,376 women aged between 15 to 49 interviewed. The results were then weighted to ensure it is nationally representative.
To track progress – or the lack thereof – we compared eight ke y indicators measured by the survey in 2007, 2011 and 2017. Comparing different rounds of MICS is statistically sound as its methods have remained the same with only a few tweaks, Dr Isiaka Olarewaju, the survey's project director for Nigeria, told Africa Check. Read more