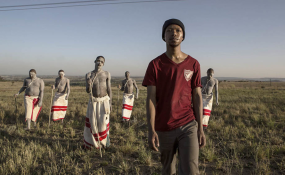 Photo: Urucu Media
opinion
By Siya Khumalo
The value of the film Inxeba's gay storyline against a backdrop defined by traditional masculinity is not exclusively for gay men: it's for everyone. Many of the social media comments about the backlash against its airing question why those who'd suppress the movie haven't been as vocal against rape culture. In view of Inxeba's focus on homophobia, this line of questioning can be taken further.
Men nowadays are rightly asked to confront rape culture, but this request often stops short of asking heterosexual people to examine their consumption of heterosexism. As I previously pointed out: "When a lesbian is murdered, or raped, or burned, or mutilated, the #MenAreTrash brigade is nowhere to be found."
"Corrective rape" is when a lesbian is raped for saying no to every man's sexual advances, making it an attack against every woman's right to say no to any man's sexual advances. There is no point at which the battle against rape culture should be more focused. But because we live in a heterosexist society, there is no point at which it receives less attention.
Where there should be a focus on the "corrective rape" of lesbians, we instead see that anger at rape culture is...