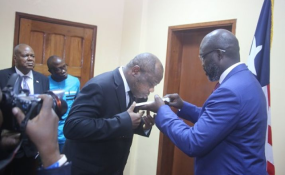 Photo: Liberia Government
Liberia's Finance and Development Planning Minister Samuel D. Tweah Jr., has challenged employees of his ministry to build on the gains of the past administration in order to deliver and promote the pro-poor Agenda of President George Manneh Weah's government.
Speaking during the official program marking the assumption of duties of his top management team at the ministry, Minister Tweah said the election of President Weah has given everyone particularly officials of government the opportunity to do well for Liberia.
He said the politicking of the election campaign was over, indicating that the journey of building a team at the Ministry of Finance and Development Planning to work for the people of Liberia for the next six year had begun.
Tweah called for the implementation of policies that will impact the lives of Liberians, with the ultimate goal of pulling people out of poverty.
"Today we begin a journey to move our country forward as a united team, with no political division, no ethnic division; we are all one people," he added.
Minister Tweah promised to recognize and encourage hard work, and assured the staff that there will be no witch-hunting.
He further said capacity building was keen on his agenda, noting that his leadership will adopt a pragmatic approach to the capacity problem of Liberia.
The Minister promised to make an assessment of the skills of the staff, with the goal for improvement during his leadership.
Minister Tweah said the fight against corruption is prudent to his leadership and pledged to support the whistle blower process at the Ministry of Finance and Development Planning.
He told the employees that "my job is to inspire and motivate you, and your job as employees is to deliver in the interest of the Liberian people."