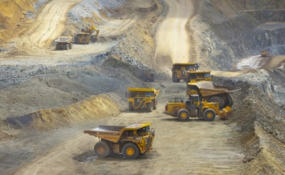 Photo: Daily News
By Yibeltal Gebregziabher
This sale could yield no less than 70 million Br for the nation
Four international companies are in the run to procure 30.4tns of tantalum concentrate and 29.9tns of niobium, a type of metal ore, from the Ethiopian Mineral, Petroleum & Bio-fuel Corporation (EMPBC).
This Corporation's 92nd round sale attempt could fetch no less than 70 million Br for the nation.
The United States (US) -based Metallica Commodities Corp, the Austrian Molaris Minerals, Trucksis Enterprise Inc of Luxembourg, and Due-Jiang of China have submitted their financial and technical offers among the 24 firms that responded to the initial tender announced on January 7, 2018.
Trucksis had the highest offer on the recent financial opening held last Tuesday. It offered 84.94 dollars and 4.12 dollars a kilogram for tantalum and niobium correspondingly, while the second highest bidder Metallica rang in 45 dollars a kilogram each for tantalum concentrate and niobium.
Molaris gave the third highest offer with 75.18 dollars and 5.44 dollars, while Due-Jiang offered 75 dollars and 5.44 dollars, for a kilogram of tantalum and niobium, correspondingly.
The winning company will be announced in a week's time, according to Yisihak Sirahbizu, chairman the bidding committee composed of five members and trade development manager of the Corporation, that was established with an initial capital of 15 billion Br in 2015 but reduced to 1.7 billion Br last year.
The Corporation is in charge of selling and procuring natural resources, consults companies and engages in drilling and laboratory tests. It also conducts feasibility studies in the areas of mining, petroleum and biofuel operations.
The southern part of the country is known for tantalum deposits with 17,000tns of tantalum found in Kenticha Tantalum Mine, where the mineral is extracted from. The site was established in 2000 occupying 5.35sqkm of land. It hires over 600 employees with an annual production capacity of 200tns of tantalum a year.
Kenticha Tantalum Mine, located in Guji Zone, Oromia Regional State and administered by the Corporation, has not been operational since November 2017 as it was closed by the region's Environment Protection Authority alleged of negatively impacting the environment.
Despite the ongoing controversy, the Ministry of Public Enterprises, the administrator of the Corporation, has floated a tender inviting companies to extract tantalum with the government in joint venture arrangements.
The recent announcement was made three weeks ago, as the third attempt of the Ministry whose previous efforts bore no fruit.
Apart from the Kenticha site in 2014 and 2015, tantalum extraction was dominated by artisanal miners generating only 9.6 million dollars.