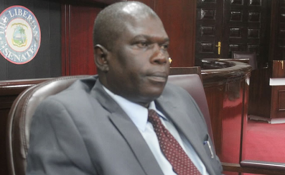 Photo: FrontPage Africa
By Necus M. Andrews
Senate Pro-temp Albert Chie says the Liberian Senate did not reject presidential nominee Cllr. Charles Gibson as Justice Minister.
The nomination of Gibson was last week recalled by President Weah with no reason given in a statement from the Executive Manson to the Senate.
Prior to Gibson's nomination withdrawal by the President, he has been struggling to regain his integrity after serving two months suspension by the Supreme Court of Liberia.
The Liberian Lawyer was suspended from practicing law in the country for two months on February 24, 2017 by the Supreme Court based on findings of the Grievance and Ethics Committee of the Bar.
He was charged for misleading his client on whose behalf he had instituted a series of lawsuits to recover loans and other obligations from his customers. Gibson was unable to account for the US$25,400 he had earlier collected.
Responding to Legislative reporters' inquest at the Capitol, Pro-temp Chie said the Senate did not play any role in Gibson's nomination withdrawal, contrary to speculation that the Senate rejected him.
According to the Pro-temp, the Senate was still looking into the confirmation of Gibson when his appointment was recalled by the president.
"I am sure they read the letter on the floor, he didn't give us any reason in the letter. He said it is his constitutional prerogative to nominate and at the same time it is his prerogative to withdraw, he exercised that right," Pro-temp Chie said.
He said "we never made any recommendation to the President; all I know is that the nomination was being vetted by our committee on Judiciary and hearings were heard in line with due diligence and that process was going on when the President withdrew the nomination."
During the press briefing, Pro-temp Chie disclosed that the President has so far submitted the names of 83 persons to the Liberian Senate for confirmation, and that 35 have already been confirmed.
The Senate pro-temp is at the same time calling on nominated officials who require conformation to desist from performing government duties until they are confirmed, because doing so will be a violation of the Liberian constitution.