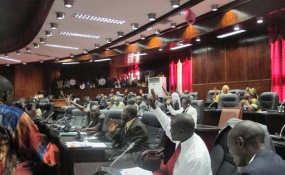 Photo: Liberian Legislature
By A. Omaska Jallah
This paper has reliably gathered that members of the House of Representatives, especially newly elected lawmakers, are demanding back pay for three months, or they boycott session.
According to our source who preferred anonymity, the incoming lawmakers are requesting that they be paid from October to December 2017.
But our source said retained lawmakers are baffled by the demands of their colleagues, noting that they were not part of the 53rd legislature; as such, they should not be making such demand.
The retained lawmakers said they and their colleagues who were defeated should be the ones making such demand because they were still working at the time.
Our source said the new lawmakers making the demand have threatened to boycott session if their concerns are not addressed.
Our source said this discussion was held during last week executive session.