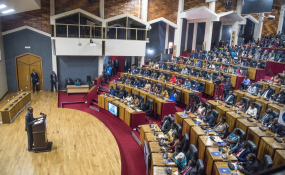 Photo: Government of Rwanda/Twitter
By Nasra Bishumba
Members of the Lower Chamber Tuesday unanimously passed the draft organic law governing elections. The move comes less than six months before Rwandans head to polls to elect members of parliament.
The polls are slated for September this year.
Speaking after passing the bill, the Minister for Local Government Francis Kaboneka said that the exercise was mostly aimed at harmonizing the laws with the constitution which was amended in 2015.
"There is no big difference between the older law and the amended one. This law explains how elections are prepared, how they are conducted, what is expected of voters and candidates, what are the penalties for those that break electoral laws and other. What we have been focusing on harmonizing it with the amended constitution as is the plan for all the other laws," he said.
As the lawmakers examined the bill last month, Article 8, on persons prohibited from registering on the voter's register, was returned to the Ministry of Local Government for re-assessment since, if passed, it would have prohibited many people from voting.
The issue was mainly with the way that law was written; something that lawmakers felt in interpretation would deny genocide convicts who are currently allowed to vote the right to do so.
The current electoral law prohibits those who masterminded Genocide from voting but it allows over a million Genocide convicts who fall in the other categories and were not in positions of power or leadership when they participated in the 1994 Genocide against the Tutsi.
Kaboneka cleared the air saying that this was a non-issue that had been promptly been fixed.
"There are categories of people who used to be stipulated by the Gacaca law but since that law is expired, we had to bring them back in the law without categorizing them as stipulated by Gacaca courts. However, the law is clear about those that can't vote or be voted and also those that can vote but can't be voted," he said.
The Executive Secretary of the National Electoral Commission (NEC); Charles Munyaneza told The New Times recently that the law was being amended to make it more user friendly.
"What we are basically doing is to make some corrections so that the law is more user-friendly because we have. We have some that are not where they are supposed to be and some articles that need to be clearer," he said.
The electoral calendar is expected to be reviewed Cabinet today, giving voters the exact dates when they will be choosing their representatives.