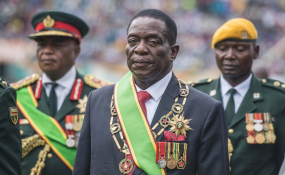 Photo: CAJ
President Emmerson Mnangagwa has spent more than 80 days in office, and a group of tech-savvy Zimbabweans has come up with a way of monitoring his progress (or lack of it) via a "presidential promise meter".
The online tool, dubbed the "Mnangagwameter" is designed to measure the new president's performance during his first 100 days in office.
'Government as good as we are'
"When his Excellency took the oath of office on the 24th of November 2017, he officially shouldered the hopes and great expectations of Zimbabweans and the international community," say the designers of the website, New Democracy Group.
"Our approach is to identify these specific promises and track his progress through the months leading to the general elections," the group adds. "Our government truly is as good as we are."
The Mnangagwameter breaks the performance of the president (and his government) down into various sectors, including governance, the economy and social issues. The measurements range from "achieved" to "not started".
Under Governance, according to the meter, Mnangagwa's government has so far "achieved" in eight areas, and made adequate progress in a dozen others. But the government is yet to make a start on a dozen more of its promises.
Hold president to his word
It's a very graphic way of keeping tabs on the president, who observers say has been making "all the right noises" since he assumed office in the wake of Robert Mugabe's resignation.
Now Zimbabweans will be able to quickly monitor whether those "noises" are put into action.
Commented one reader: "Congratulations on your unbelievable initiative to hold his Excellency to his word."
Source: News24