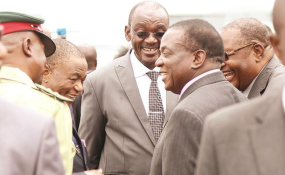 Photo: The Herald
President Emmerson Mnangagwa is "a man amongst men" his deputy, Kembo Mohadi, has claimed.
Mohadi was addressing Zanu PF supporters in Mvuma recently. The co-VP told the gathering that he was "content" with being Mnangagwa's assistant.
He said, "I am content with the position which the President has assigned to me. After the President chronicled what he had been through I told him that he can keep his seat."
"He is a man amongst men. If he is the king of the jungle I am sure he is the king of Zimbabwe," said Mohadi.
After Mohadi's speech, Mnangagwa chronicled how he 'suffered' to become the president.
"Mohadi approached me and told me that we have been together for a very long time," said Mnangagwa.
"He said we were together at the Lancaster House, we have been together in the National Assembly and we also have been together in government."
Mnangagwa said his deputy said he was following in his footsteps.
"He said just like you have been I am now a Vice President. What is only left is to be the President just like you," said Mnangagwa.
"I told him that first he was supposed to be sentenced to death and escape the noose," said Mnangagwa who was sentenced to death during the colonial era because of his political activities only to survive because he was too young to hang.
Mnangagwa said he also told Mohadi that he was supposed to survive nine interface rallies.
The interface rallies, which were held last year, saw Mnangagwa suffering serious humiliation at the hands of former president Robert Mugabe and his wife Grace. Mnangagwa was to be fired from government and was forced to flee to South Africa from where he, together with the military, engineered the coup that ousted Mugabe.
"I told him (Mohadi) that he had to survive poisoning and be a border jumper before you will be like me," said Mnangagwa to a cheering crowd.
Mnangagwa then repeated his claim that he walked for 30 km crossing into Mozambique en-route to South Africa fleeing an 'assassination plot".
"Then Mohadi said he was not up to the daunting task," Mnangagwa said.
In November 2016, Mohadi, then a cabinet Minister, was told by a Malawian prophet, Shepard Bushiri, that he was going to "go higher and higher" in his political career.