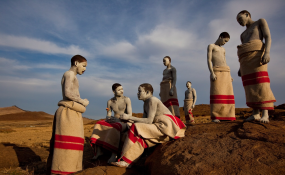 Photo: The Wound/Facebook
The Commission for the Promotion and Protection of the Rights of Cultural' Religious and Linguistic Communities (CRL Rights Commission) is to brief the media on the controversial award-winning movie Inxeba (The Wound) on Wednesday.
The film ruffled feathers in some parts of the country, resulting in a suspension of screenings at two cinemas in the Eastern Cape.
Traditional leaders in the Eastern Cape protested against the screening of the film, saying that it had inaccurately portrayed the Xhosa initiation tradition and flouted cultural norms and practices.
The CRL Commission recently found that the film was "blasphemous to the sacred rituals of initiation" and said the use of Jesus Christ and King Shaka Zulu "poses a concern in our young democracy and the film may incite violence".
It had received a complaint from amaXhosa King Zwelonke Sigcawu, with a memorandum from Contralesa and the Man and Boy Foundation.
Celebrities Loyiso Bala and Emtee, turned to Twitter to express their views of the film. Bala wrote that the film ridiculed and disrespected the wishes and traditions of the Xhosa culture.
The film claimed eight South African Film and Television Awards (Safta) nominations, including Best Actor, Best Directing and Best Film.It has also won 19 awards at 44 festivals in more than 25 countries, including South Africa.
The film was shortlisted for this year's Academy Awards in the category of Best Foreign Language Film. However, it did not make onto the final nominations list.
News24