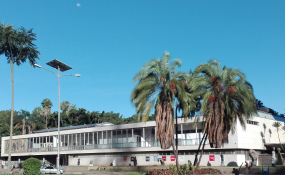 Photo: Jerry Chifamba/allAfrica
The National Gallery of Zimbabwe will this month host an exhibition which seeks to provide artists with a platform to reflect and interrogate the social and economic fabric in the country in the wake of the November coup which saw a change of guard in government.
Titled "Lost and Found: Expectations, Uncertainty, Excitement and Hopes" the exhibition will to be curated by Raphael Chikukwa and will open on Thursday the February 22.
The event will seek to reaffirm the position of the artist as the primary storyteller, using different media to get their voices heard.
"Such images confront the traumas that have beset Zimbabweans over the years and is an engagement with the recent past.
Zimbabwean people in the last two decades lost their hope and expectations. Their uncertainty and excitement that manifested on the 18th of November 2017 marked a turning point and became a perfect time to reflect and interrogate what being Zimbabwean truly means," the gallery said in a statement.
The Gallery said the 18th of December, the day that former President Robert Mugabe resigned after 37 years of iron fisted rule, had received many names and had given hope to many Zimbabweans both at home and abroad.
"All the images document an event in which the culmination of various agendas collided on that day, and produced a historic moment, which captured not only formally by artists but also by amateur photographers, well-wishers, and the general crowd,".
It said the developments that unfolded in November, which saw the army move in to wrestle power from Mugabe in what has been described as a "bloodless coup", was unexpected and had brought a new glimpse of hope for the healing of the nation and for moving forward.
"The experience that forged Zimbabwe's new political and social order presents artists an opportunity to revisit and reflect upon the journey that many Zimbabweans have walked. The past 37 years showed the resilience of Zimbabweans and the new era brings excitement and hope," the statement said.
Much of the international community has landed support to the new administration and have expressed willingness to embrace Zimbabwe as it seeks to regain its place.