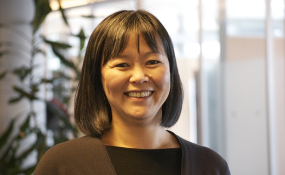 Photo: The Independent
By RONALD MUSOKE
Kampala — Susan Eckey is Norway's ambassador to Uganda. She spoke to The Independent's Ronald Musoke on the growing bilateral relations between the two countries.
Tell us about your impressions of Uganda since you arrived in 2015?
Uganda is my first posting as a bilateral ambassador. I am a career diplomat and I started my foreign service in 1991. I have brought family and friends here to see all the beauties of Uganda. I love it very much here. My biggest impression has been meeting and speaking with people around Uganda to get an idea of what life is like for Ugandans and I have found that very interesting.
How would you describe the current relations between Norway and Uganda?
Our bilateral relations are excellent. We opened our embassy here in 1996 but we had had relations with Uganda since the 1960s when young Norwegian Peace Corp volunteers came here and made life-long friends. Uganda is a well-known country (in Norway) and there are many families and private citizens who have friends and relations with their counterparts in Uganda. We cooperate very well at the United Nations and in the regional organizational frameworks. In terms of bilateral cooperation, we have supported Uganda in many sectors; especially in the energy sector, and also have engagements in human rights, good governance, democracy and women's and girls' rights. In terms of trade and investment, that too is increasing. We see more Norwegian companies, in particular those in the renewable energy field, looking for opportunities in Uganda. We have had several trade and investment delegations to Uganda over the past two years. We have a Norwegian company that has shown interest in exporting Ugandan coffee to Norway in an innovative way - by subscription. They want to have as much as possible of the value added here. Instead of just exporting the beans, they want to roast the beans here, package and market so Norwegians can pick the coffee in their mail boxes. There is also a company with Norwegian investors which provides sophisticated software to the financial sector in Uganda and in Norway.I am very much excited about all these commercial contacts.
How else have you been promoting trade between the two countries over the time you have been here?
In Norway, there is what we call the Nordic African Business Association (NABA) which gathers high level participants from Africa every October. This association is very active and they really try to promote Africa in the Nordic countries. I know that Uganda gets invited and Ambassador (Zaake Wanume) Kibedi who is based in Copenhagen is very active. In 2016, Hon. Peter Lokeris, the Minister of State for Energy represented Uganda as well as the State minister in charge of Kampala. This year the Minister for the Presidency was among the invited dignitaries. We have had trade and investment delegations come here in both 2016 and last year. But don't forget that many more Norwegian companies come in just on private initiative. In Uganda, the Nordic Embassies (Norway, Sweden, Denmark and Iceland) cooperate very well with the Nordic Business Association (NBA), composed of Nordic business interests.
It has been 25 years of Norway assisting Uganda develop its electricity sector. What have been some of the highlights of this cooperation?
We have been in Uganda's energy sector contributing to the generation, transmission, distribution as well as the legal framework and technical cooperation. We have had Norwegian experts advising the Ugandan government in terms of the energy and petroleum and environmental laws. Norwegian companies, with or without Norwegian aid money, have assisted in the work on the Bujagali, Karuma projects and many other hydro power developments here in Uganda. We have financed quite a bit the renewable energy sector, including transmission and distribution, such as the Nkenda-Hoima line. Lines must not just go from one part of the country to the other, but also reach the people. This is of great need for Uganda so we hope that we will continue to cooperate with the government on those issues. I think that the bigger picture of this cooperation has been that the energy sector has been and remains a key priority for Uganda.
How satisfied are you with your government's goal of helping Ugandans access cheap and clean energy as a means of fighting poverty?
Norway like Uganda has vast natural resources; hydro power in particular, so we have lots of experience and Uganda wants to tap into that expertise. That is why we are, or have been working with UEGCL, UETCL, REA and ERA. Moving forward, we would like to continue to cooperate on the technical aspects rather than the old-fashioned hardware cooperation. Last year, we entered into an agreement with UEGCL on training because we could provide the expertise needed. The Ugandan authorities know that they need to deepen and diversify the competencies of their staff and they know that we can supply that.
Norway has been an integral part of Uganda's oil story. How would you describe the journey so far?
We have had the Oil for Development Programme in Uganda since 2008. It consists of technical cooperation, expert training and other advisory services. We are currently in the second phase and the third phase will start in April this year (2018-2021). Many countries are interested in learning from the Norwegian petroleum experience through our experts.You have already established many professional entities and seeing from outside we think that Uganda is well prepared. The Ugandan managers and experts the Norwegian experts meet here are highly professional, very serious and very much interested and dedicated to hearing about the Norwegian system in order to adapt and then implement elements of it here. As a result of Norwegian advice, the Uganda National Oil Company, the Petroleum Directorate and other agencies in this field have been inspired by Norway although I know that your experts have also gone to other countries like Nigeria, Equatorial Guinea, Trinidad and Tobago, Ghana, and Angola. Uganda's oil sector is on the right track but it is important that the rules and regulations; including the environmental and societal aspects, are respected as you move forward. Transparency on issues related to this sector is a priority in Norway, an element that also Uganda supports.
How do you suggest Uganda manages its carbon footprint which will definitely shoot up with the advent of oil production?
First and foremost there are new technologies of producing oil. But you also have laws and regulations and standards for producing oil in the best possible way in terms of containing Uganda's carbon footprint. There are international systems for mitigating and addressing the challenges of such emissions. Norway, for instance, is part of the UN system of REDD (Reducing Emissions from Deforestation and Degradation). This is something we adopted in order to try to be as carbon neutral as possible even with oil and gas production.
Last year, the UN joint programme on gender-based violence in Uganda, which Norway was a part of, ended. What were the learning experiences out of that programme?
What we saw from that programme is that there is need to have multiple interventions if we are to succeed in combating gender-based violence. You have to engage the men; you have to engage society and the community. You also have to engage the different agencies of the UN. We can see that it is not enough to tell people that you should stop hitting or abusing someone; you have to provide a system for people to change behaviour. That programme showed that there is need to cooperate among the different Ugandan authorities; the local police, the health personnel and protection officers. When they work together, violence is reduced.
How do you intend to further the gains realised out of that programme?
Norway continues to support various programmes which are aimed at combating gender based violence. I just invited the United Nations and some other colleagues for a meeting on how to go forward with this programme. We agreed to continue to cooperate closely; continue to inform each other about what we do; continue to look at the many aspects of gender based violence. One is certainly in homes but we also had this terrible experience from the infrastructure project where the World Bank had to suspend the project (the Fort Portal-Kamwenge road). So I think that was a necessary and important eye opener. The World Bank is a new and committed partner and is coming in to support the government from the international partners' side.We have to look beyond what we have done before. We need to make sure that interventions the international community supports do not have a negative impact on women and children and even men. What we have learnt from the joint UN based programme is that it is possible to reduce gender based violence if Ugandan central and local authorities, civil society organizations and international partners work together.
How do you think gender based violence impacts society?
First, you will have a large section of society--those who are victims and survivors of this violence-- who will have very difficult lives. The societal impact is that they will not be as active and creative. The UNFPA has tried to calculate this and they say the economic impact of gender-based violence is significant. We read almost weekly in the newspapers about defilement and maltreatment of school children, in particular girls. They may stop attending school, and even if they stay on,they are traumatized and find it hard to concentrate. And then you will have young girls who grow up without an education, you will have future mothers without basic educational skills. That of course affects society when you have a population that can hardly read and write, mothers and fathers who cannot guide their children. Education is one of the priorities of the Norwegian government and that includes assisting in terms of keeping young girls in school.
Your last word?
The issue that has been close to my heart throughout my career is the role of women (in society) and gender equality. There are many women here in Uganda in key positions in society, in politics, administration and business. However, I think there are still opportunities for women, at all levels, to be heard and to be seen participating even more. Women should be treated as equal citizens as men, in all aspects of life. The United Nations Convention on women's rights (CEDAW) sets out the international legal obligations to protect and promote women. It is a key priority for my government to ensure that there are more women around the decision making tables, making sure that the protection of women happens in the construction of infrastructure projects, making sure that women have the right and access to land, making sure that girls go to school and are accessing sanitary facilities, and making sure that women get justice when they are violated. Impunity for gender based violence must end - in all countries. Women's rights are about human dignity and human rights, and it is ultimately about what kind of society we want to have - a just and fair society for all.