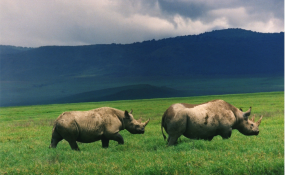 Photo: Daily News
By Adam Hartman
Had it not been for donors, Namibia's iconic black rhino may have been extinct today.
Fetching unbelievingly high prices on the black market, the rhino horn supply for Asian traditional medicine and collectors has become an incentive which international crime syndicates will not ignore. This resulted in rhino poaching that pierced the numbers of the already endangered animal, especially the last free-roaming desert-dwelling black rhinos of north-west Namibia (Damaraland).
The tally of surviving black rhino, or even records of their distribution, is a guarded government secret that only a handful of politicians and scientists working on rhino conservation know, and they have even vowed to stay tight-lipped about it after signing an official confidentiality oath.
The sole motivation is to protect any information that may tempt criminals to identify potential targets.
WHAT IS KNOWN
The black rhino remains critically endangered, and its desert family even more so.
Not so long ago, hope to keep it from extinction was low until the intervention of donors, many of them international. It is, however, obvious that they alone could also not have helped keep levels head above water.
Prior to independence, much of Namibia's wildlife was traditionally stripped away by the effects of war and over-exploitation.
This also affected the desert rhino. In fact, in the 1980s, there were fewer than 50 of these animals left.
With the independent Namibian government's newly introduced laws on wildlife conservation and protection, Namibians were allowed to become owners of wildlife (except the black rhino, which government adopted as a priority species).
From this sprang partnerships and initiatives that would see the country become a leader in successful conservation and a sought-after destination for conservation tourism. So much so that tourism, primarily motivated through conservation, has become one of Namibia's top GDP contributors.
Although there has been a significant recovery in desert-dwelling black rhino numbers since the 1980s, efforts to restore the population to a self-sustainable level remain intense.
SAVE THE RHINO
The Save the Rhino Trust (SRT) has for the past 37 years taken up the responsibility for the protection of the desert rhinos. They have developed into a sophisticated network of research, protection and conservation that involves local and international knowledge, manpower and funding.
The main objective is to prevent the species from becoming extinct, but it has not been easy.
From 2012, poaching intensified after spilling over from neighbouring territories, with the western side of the Etosha National Park and the corridor through to the Skeleton Coast National Park bearing the brunt.
"As the body count rose, wild accusations were the order of the day. After decades of positive results, for the first time the SRT had to face the twin threats of armed and dangerous criminal syndicates, coupled with the worst drought experienced in 30 years," said SRT trustee Rob Moffett. "At this time - SRT's darkest hour - friends were few, and the challenges to turn around the situation were high."
Thanks to far-sighted conservationists who knew that the solution lay in partnering indigenous communities and winning former poachers over to turn into gamekeepers, plus government's support to embrace community-based natural resource management, the rhino population was stabilised and began a remarkable recovery.
In the years that followed, more communities requested to join the custodian programme, which allowed for range expansion.
With SRT playing a leading role and enjoying cooperation from international conservation agencies, and the Ministry of Environment and Tourism (MET) overseeing the process, good progress was made to save the rhino from extinction.
Over 30 years of sustained population growth and recovery has thus seen SRT settle into its mandated rhino monitoring and research role.
CHALLENGES AND SUCCESSES
When the poaching escalated in 2012, hindering the rhino protection effort, SRT did not possess enough resources for the all-year-round coverage of an area that spans about 35 000 km2. Coordination between conservation and security agencies was improved, plus intelligence gathering and presence ramped up.
MET, the police and the Namibia Defence Force were approached for assistance, and by late 2014, there was 365-day coverage. Adaptation and adjustments to patrol patterns were modified to further improve coverage.
Over and above the organisation's mandated wildlife-focused research and monitoring role, SRT had to adapt to include a human-focused anti-poaching component.
To achieve this, SRT drew on its inter-agency relationships with MET, the protected species division of NamPol and the NDF's special field force.
Since the first rhino was poached in 2012, the overall patrol effort has increased by 360%, and verified rhino sightings have increased by 380%, while the percentage of known individual rhinos seen on average each month has risen from about 20% to nearly 80%
The number of trained and equipped conservancy-based rhino rangers has grown from 0 to 55 across 13 conservancies, tripling the field force, while on the flip side of the coin, poaching has been reduced by 80%.
In 2017 alone, six separate poaching attempts were foiled after tip-offs from local informants.
This resulted in a gang of poachers responsible for killing the last rhino last year being caught red-handed.
The amount of income generated and distributed back to local communities directly from rhino tourism has also increased substantially.
MONEY TALKS
Last weekend, B2Gold Namibia enjoyed a 'weekend of appreciation' at the Wilderness Safaris Desert Rhino Camp, where they saw first-hand what their support has been used for over the past three years.
The mining company stepped to the fore in 2014 during the SRT's "darkest hour", and sponsored the trust's activities for N$1 million per year for three years.
This resulted in a decline in poaching incidents, down to zero, recorded over the recent holiday period.
"Through open and honest communication with our valued stakeholders, partners, donors and supporters, we have solidified our support base, both locally and internationally. Among those is B2Gold, who must be particularly recognised for both the timing and scale of their contribution to protect the desert-dwelling rhinos," said Brandon Munro, a trustee of SRT.
B2Gold Namibia is a 90%-owned subsidiary of the Canadian B2Gold corporation. The remaining 10% is owned by EVI Mining Company Limited: a Namibian, broad-based economic empowerment group. B2Gold Namibia's portfolio includes the Otjikoto gold mine near Otjiwarongo and Otavi.
"We are part of something special, and that is saving a species from going extinct. As a mine, we take out of the earth, and it is not easy to make it right. But we can give back to the earth by helping in such an effort, and we will continue to commit ourselves to this cause," said B2Gold founder Clive Johnson, who further topped up their N$3 million donation with a N$600 000 cheque, and pledged to continue their ongoing support for SRT.