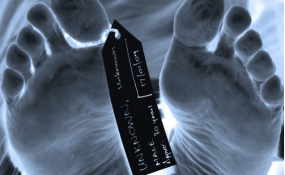 Photo: Adrian Clark/Flickr
By Lugeretzia Kooper
Seven unidentified bodies believed to be of Zambians, lie unclaimed at the Katima Mulilo mortuary.
The authorities have managed to identify an eighth body as that of Oscar Mumbula (48), who died on 25 December 2013.
Four other bodies of men and three of women could not be identified because of the lack of identity documents. Zambezi regional governor Lawrence Sampofu told The Namibian yesterday that the authorities had difficulty in tracing the families of the deceased because they had no identity documents.
He said most people in the Zambezi region employ people from Angola, Kavango and Zambia who have no identity documents.
"This lack of formal identification of Zambians who are employed in Namibia has been going on since the 1980s until today," he stated.
"No human being deserves to be classified as unknown during the time of death as they have relatives somewhere. In 2013/14, we, together with Zambian officials, had a mass burial of 14 unidentified bodies we suspected to be Zambian nationals at the Dairy compound at Katima Mulilo, which is very sad.
"It has also come to our attention that the employers abandon these employees the minute they get sick.
This is not the way to treat our neighbours after they have provided their services to you. Therefore, you should ensure you know where they come from, and contact their families in times of need," he said.
Sampofu said employing people who have no proper identification as cattle herders and domestic workers is human trafficking. "You cannot as employers take his word for granted in the name of cheap labour because you do not know whether this person is a fugitive from the law or not," the governor said.
Sampofu added that every Zambian cattle herder or domestic worker should be registered with the village headman and the district councillor, while a copy of their identity document should be submitted to home affairs and the police.