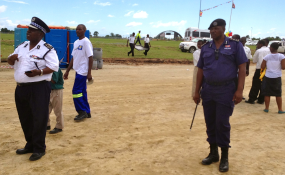 Photo: MISA Swaziland
Police officers in Swaziland have been caught on video brutally attacking a woman. One uses a stone to repeatedly assault her.
This is not the first time police have assaulted civilians in the kingdom ruled by King Mswati III who is sub-Saharan Africa's last absolute monarch.
The Sunday Observer newspaper in Swaziland published stills (11 February 2018).
The newspaper reported the incident happened at Lukhula on Monday 5 February 2018. Two traffic officers based in Siteki were involved. The Observer reported the officers who it named only as Mkhwanazi and Simelane were, 'seen forcefully shoving a woman, Phum'lile Maseko into a police sedan. During the scuffle, officer Mkhwanazi picks up a stone to brutally assault the defenceless Maseko repeatedly.
'In an agonising voice, Maseko is heard screaming uyangilimata, akusimi! (you are hurting me, it is not me) while the police officer continuously assaults her and ordering her to let loose of his police uniform's jacket. Maseko is holding on to Mkhwanazi's jacket for dear life, refusing to get into the police car.
'At first, before assaulting her, the officer attacked her with fists several times. After realising that she is not letting go of his jacket, the officer bends down to pick up a nearby stone and goes on to use it as a weapon.
'Onlookers are heard in the background shouting for him to leave the woman alone, screaming that she had done nothing wrong. Despite this, the police officer continues to hit her hard with the stone.
'But, they then realise they are being filmed by use of a cellphone, and they quickly shift their focus to the person recording the incident and Maseko finally manages to escape from the clutches of these brutal officers.
'In the skirmish, both Maseko and the person recording the incident, identified as Thabiso had their phones extensively damaged by the officers.'
Maseko told the newspaper she was at Lukhula to sell grilled mealies to passengers and on-goers.
The Observer quoted Maseko saying, 'While I was watching the police pushing and shoving Celimpilo Mashaba, a quantum conductor I came close to the scene to watch the drama.' The newspaper reported police said his vehicle was wrongly parked.
The newspaper added, 'One of the police officers approached her across the road and allegedly dragged her to where the sedan was parked. The traffic cops were accusing Maseko of opening a door of the police sedan and in doing so letting Mashaba out of the vehicle.'
The Observer reported, 'Not only do the cops smash the phone on the ground, they are also heard hurling expletives, calling Mashaba by his mother's private parts, and onlookers are heard shouting at the police officer and also telling Mashaba to go open a case against him.'
Maseko said she suffered injuries to her hand, bruises and some chest pains.
This is not the first case of police assaulting civilians in Swaziland. In December 2017, police attacked people at an illegal drinking den at Ezulwini with guns and whips in what The Observer on Saturday at the time called, 'the truest form of brutality'.
'Gunshots were heard with the sizeable number of police officers literally going out of their way to assault the patrons hitting them randomly with whips (tinsilane) and fists,' the newspaper said. It added, 'Most patrons were forced to run helter-skelter into the thick of night in a panic and in the process getting hurt by barbed wires on the fence.'
In August 2017, at least 15 armed police officers shot at an suspected drink-driver in Manzini leaving his car riddled with more than 20 bullet holes. The Times of Swaziland reported at the time the driver Wandile Bhembe, aged 30, said he had not seen the traffic cops because they had the headlights of their cars switched off. The Times reported Bhemebe saying, 'While trying to open the door and preparing to get off, the cops dragged me into a nearby drainage and severely assaulted me all over the body using fists, kicks and open hands.' Bhembe ended up in hospital with injuries all over his body, especially to his head, mouth and chest, the Times reported.
Also in August 2017, a security guard told Mbabane court a female police officer sat on his face and other officers assaulted him after they accused him of stealing motor parts.
In March 2017, A man accused of multiple murders told a court he was tortured by police for 11 days to force him to confess. He said he was suffocated with a tube and assaulted all over his body, resulting in many serious injuries. The alleged attack was said to have taken place at Lobamba Police Station, the Manzini Magistrates' Court was told.
In January 2017, local media reported police forced a 13-year-old boy to remove his trousers and flogged him with a sjambok, to make him confess to stealing a mobile phone.
In September 2016, media in Swaziland reported women strikers were ambushed by armed police and 'brutally attacked' at the Plantation Forest Company, near Pigg's Peak. Police had previously used rubber bullets and teargas against the strikers and had fired live rounds to disperse a crowd.
In 2013, the Open Society Initiative for Southern Africa (OSISA) reported that Swaziland was becoming a police and military state. It said things had become so bad in the kingdom that police were unable to accept that peaceful political and social dissent was a vital element of a healthy democratic process, and should not be viewed as a crime. These complaints were made by OSISA at an African Commission on Human and Peoples' Rights (ACHPR) meeting in The Gambia on 10 April 2013.