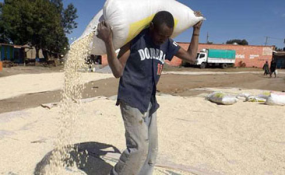 Photo: The Eas African
By Jeremiah Wakaya
Nairobi — The number of food insecure persons in Kenya could increase to 3.9 million this year, up from 3.4 million last year.
A humanitarian outlook by the United Nations Children's Fund (UNICEF) for the country also projects an increase in the number of children aged below 18 at risk of severe food insecurity to 1.8 million compared to 1.1 million in March and 1.6 million in August 2017.
"An estimated 482,882 children require treatment for acute malnutrition, including 104,614 who are suffering from Severe Acute Malnutrition (SAM). Eighty-eight per cent of these children are from 23 Arid and Semi-Arid Land (ASAL) counties," the humanitarian brief indicates.
"Drought conditions have led to declines in school attendance and school participation and rising dropout rates," the agency warns.
The ASAL counties occupy 89 per cent of the country and are home to 36 per cent of the country's population.
Seventy per cent of livestock nationwide is said to be found in this region.
Ninety per cent of wildlife, a critical component of tourism in Kenya, is found in ASAL counties.
In mitigation measures, the UN agency aims at reaching 1.6 million adults and 1.1 million children through wide-ranging interventions.
Among areas being targeted are nutrition, health, water, sanitation, and hygiene, child protection, HIV/AIDS and social protection.
UNICEF is appealing for US $ 34,235,000 million to respond to the humanitarian needs mostly arising in 23 ASAL counties.
As of October 31, 2017, UNICEF had a funding gap of 27 per cent, having secured US $31 million against its 2017 appeal of US $ 42.4 million.
UNICEF's 2018 intervention programme, given limited resources, is expected to only reach 78,925 children below the age of five with treatment for Severe Acute Malnutrition (SAM). Some 194,656 children within a similar age bracket will be put on treatment for Moderate Acute Malnutrition (MAM).
Nutrition accounts for the lion's share of the US $ 34,235,000 projected budget, absorbing US $ 10 million.
The health sector which is estimated to cost US $ 6.3 million is projected to put some 814,500 children below the age of five under diarrhea, malaria and pneumonia prevention interventions.
641,817 children under five will be vaccinated against measles.
UNICEF will require US $ 4 million to reach 650,000 persons with Water, Sanitation, and Hygiene (WASH) services.
Of the 650,000, 250,000 persons will be provided with safe water, 400,000 with hygiene education, in addition to 100,000 school-going children targeted for hygiene education.
According to UNICEF, 3,518 cholera cases and 66 deaths were reported were reported in 2017 accounting for a case fatality of 1.9 per cent.
Outbreaks of malaria, measles, dengue fever and kala-azar, were equally reported in 2017 with alerts issued for Marburg virus disease and plague.
There was a significant risk for measles and polio outbreaks as well.
UNICEF intends to set aside US $ 1 million for the protection of some 20,000 children.
Last year, there were 17,158 children experiencing protection risks which included but were not limited to separation with families as a result of among other reasons, communal disputes.
Among the children being targeted in UNICEF interventions include those living in refugee camps which according to estimates host 489,239 people, 57 per cent of whom are under 18 years.
UNICEF projects 20,000 refugee arrivals in 2018.
According to UNICEF records, only 74,451 refugees have left the Dadaab camp in Garissa since 2015.