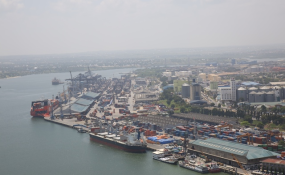 Photo: Daily News
By Rodgers Luhwago
THE East African Legislative Assembly (EALA) yesterday hailed the efficiency at the Dar es Salaam port, but were also concerned that too much of that cargo was hauled on roads instead of the relatively railway lines.
The EALA legislators who are currently visiting public facilities, said partner states should find means to finance construction of modern railways to facilitate cheaper cargo haulage. They called for concerted efforts when they toured the Dar es Salaam Port during which acting Port Manager, Mr Freddy Liundi informed them that 99 per cent of cargo that passed through the harbour was still transported by road.
Led by their team leader, Ms Muhia Wanjiku, the legislators said Community partner states should work more closely to ensure the region was connected by modern railways. "Rail transport is very cost effective in ferrying goods over long distances ... it also helps ease traffic, save road destruction and reduces end-user costs," Ms Wanjiku said.
Acting Port Manager (Mr Liundi) told the visiting delegation that Tanzania was already building a Standard Gauge Railway (SGR) linking Dar es Salaam and Mwanza regions. He said plans were also on hand to link Dar es Salaam Port with Rwanda, Burundi and Uganda with SGR, a move that would expedite the transportation of cargo to the landlocked EA partner states.He also informed the EALA lawmakers that the port authorities were constructing a Dry Port at Kwala area in the Coast region to ease congestion at Dar es Salaam port.