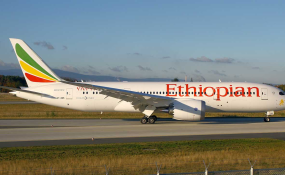 Photo: Daily Trust
By Seid Mehammed
Ethiopian Revenues and Customs Authority announced that it has identified tax free goods and items for passengers both in volume and size to ease customers hustle in and around the airport service sector.
Communication Affairs Director in the Authority Efrem Mekonen told The Ethiopia Herald that there are many goods that are authorized solely for passengers to import to their country by identifying their size and weight.
Efrem further noted that electronics, printing and copy machines, music instruments, bath instruments, laundry, and barberry and electrical goods, sport materials, food and beverages, entertainment goods, cosmetics, textile, stationary, drugs, medical equipments, cigarette and cereals are under the list of the tax free goods mentioned.
The procedure is authorized especially for Ethiopian returnees and for those who are legally hired in various service offering organizations in Ethiopia. Moreover it also allows Ethiopians and foreign citizens who come to the nation on a legal agreement basis. He further highlights that such an improvement is aimed at reducing poor service delivery during the inspection process at the airport. The director also noted that anyone who imports goods beyond the limited size will pay double tax.
Most customers are satisfied with the improved service. He said adding that the Authority is creating awareness on the matter. Furthermore, he added some principles of the procedure may not be executed properly as it may be misunderstood among business people as it allows only passengers.
Ministry of Finance and Economic Cooperation recently has approved a principle number 51/2017 in collaboration with the Ethiopian Revenues and Customs Authority concerning importing private consuming goods with free tax that are not for the purpose of commerce.