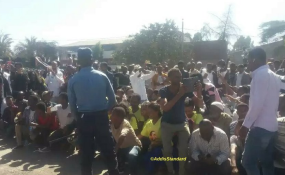 Photo: Addis Standard
Upbeat and hopeful to see their loved one, Andualem Aragie, family members and friends were patiently waiting for Aragie's release for hours. Before he was sentenced to life in prison, Andualem Aragie was vice president and press secretary of the Unity for Democracy & Justice (UDJ) party.
Aragie has been through so much pain while in prison, including being severely assaulted shortly after his detention and being denied medical care. Read our editorial from May 2012.
Today, Aragie is receiving a hero's welcome.
Journalist Eskinder Nega was sentenced to 18 years in prison. The PEN America's Barbara Goldsmith Freedom to Write prize award winner, prison is not new to the father of one. He has been jailed at least a dozen times during the 27 years of EPRDF's rule in Ethiopia.
Nega is receiving a hero's welcome. His mother in law was happily interviewed for Amhara TV, while his aunt Asrat Mengesha, her husband Gebeyehu Asres and his friend reporter Temesgen Desalegn wait for him.
The jubilant crowd at the gate of the Kallity prison were ecstatic. Worried, the police have called in anti-riot reinforcements, who have arrived at the scene a few minutes ago, while well-known Muslim community leader Abu Beker Ahmed addressed the jubilant crowd.
Today's most unexpected release is Olbana Lelisa; he was a high-ranking leader of the Oromo People's Congress Party (OPC), which merged with Oromo Federal Democratic Movement (OFDM) to form Dr Merera Gudina's OFC. In 2011, Olbana was sentenced to eight years along with Bekele Gerba.
Lelisa was serving 13 years, while Gerba who was sentenced to 8 years during the 2011 trial. Both were arrested after meeting representatives of Amnesty International.
Lelisa remained in jail when Gerba was released in April 2015.