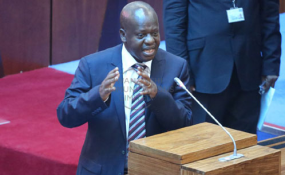 Photo: The Citizen Tanzania
By Ibrahim Yamola
Dar es Salaam — The Speaker of the National Assembly Mr Job Ndugai is receiving medical attention in India and will return 'soon', the Clerk of the National Assembly, Mr Stephen Kagaigai has said.
This comes at a time when Mr Ndugai's sickness is making headlines in some social media platforms, with some quarters demanding to know what is troubling the health of the head of one of the key organs of the state.
But Mr Kigaika - who was appointed to the position of the Clerk of the National Assembly by President John Magufuli in October last year - told The Citizen's sister paper, Mwananchi, earlier today (Wednesday), that Mr Ndugai's health condition was improving and that he would be back 'soon'.
"We have already informed the public that he is in India for medical checkup and his condition is improving," he said.
He said the actual time for his return will be decided by his doctors, insisting however that he will be back soon.
This is the second time that Mr Ndugai has travelled to India for medical checkup in a span of one year.
He was also in Indian during the entire four months when the Parliament was debating the 2017/18 budget in Dodoma between April and July.