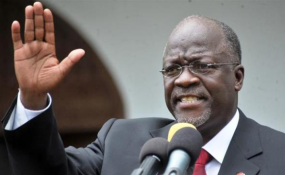 Photo: Daily News
By Betram Lengama
DEPUTY Minister for Water and Irrigation Jumaa Aweso, has warned contractors and engineers on misappropriation of funds allocated for water projects in the country as the government will not endure that anymore.
The Deputy Minister disclosed this yesterday in Dar es Salaam during his Dar es Salaam region tour to inspect the implementation of water projects in the region. He said that the ministry had declared war on bogus contractors and engineers who squander water project funds and fail to complete the projects.
The state will not tolerate this behaviour because it frustrates the government's intention of having 95 per cent of its people to have access to safe and clean water by the year 2020.
"Those bogus contractors and engineers who failed to complete various water projects because of squandering government or donor funds will be in hot soup because they are going to vomit the project money they have swallowed," he said.
Presenting his report on the implementation of various projects aimed at improving water access in the region, the Dar es Salaam Water and Sewerage Authority (DAWASA) Acting Chief Executive Officer, Eng Romanus Mwang'ingo said that after the expansion of Upper and Lower Ruvu, large number of Dar es Salaam and Coast regions residents have access to safe and clean water.
He named some of the projects which are on implementation as Kidunda dam, Kimbiji and Mpera boreholes. However, he disclosed that the authority faced some challenges in implementing and completing some of the projects because so far only 10 per cent of their allocated funds have been released. On his part, the Dar es Salaam Water and Sewerage Corporation (DAWASCO) CEO Cyprian Luhemeja said Dawasco has improved water access to the people.
Currently, there are more than 268,000 connected customers, he said, adding that the amount of water lost has been reduced to 28 per cent and they are looking forward to reducing it to 20 per cent by 2020.