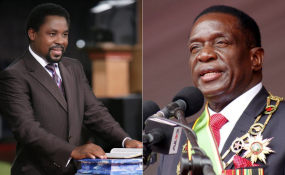 Photo: allafrica.com
Popular Nigerian Televangelist and leader of The Synagogue, Church Of All Nations (SCOAN) ,Temitope Balogun Joshua commonly known as TB Joshua is coming to Zimbabwe in the "coming few days" for a private visit to President Emmerson Mnangagwa.
The visit was confirmed by Prophetic Healing and Deliverance (PHD) Ministries founder and leader Prophet Walter Magaya during a Wednesday Midweek Service at his church
"Prophet TB Joshua will be in Zimbabwe, he is coming on a very private visit to President Emmerson Mnangagwa or who ever will be there.
"Personally i wouldn't want the visit to be private but its already private. So when i met him, i asked him what is should tell his grandchildren and he told me it will be a private meeting with the president which will also give him time to plan bigger things in the future," said Magaya.
He however, said he did not plan the visit by the popular televangelist.
"I did not plan or facilitate this visit, i do not want to take credit for this. This was a plan between the president and the Prophet and there is a team of people in the middle who did a very good job to facilitate this visit.
"It is good for him to come and have a private visit with president ED Mnangagwa, so let us all pray for these meeting," added the controversial prophet.
Joshua is known for his popularity across Africa and is famed in Zimbabwe for "prophesying" the military take over which dethroned former president Robert Mugabe while ushering in Mnangagwa.
This was not the first high profile prediction Joshua had given concerning a Southern African President after the video of him 'prophesying' the death of Malawian leader Bingu Mutharika went viral in 2012 and led to an official judicial investigation by the Malawian government.