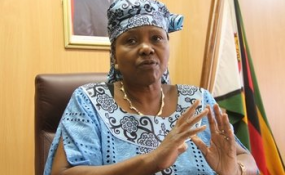 Photo: The Herald
By Staff Reporter
Zimbabwe lost some 280 dams to flooding in the last rain season, Environment Water and Climate Minister Oppah Muchinguri-Kashiri has revealed.
The minister said many other water bodies were threatening to burst due to the current rainfall and the government is sourcing funds for repairs.
Muchinguri-Kashiri revealed the challenge while introducing government's Command Wildlife and Fisheries initiative to the business community in Harare recently.
Under the programme, government has set aside 200 dams around the country to be used by potential investors in the fishing sector.
The initiative needs about $20 million in funding and is aimed at increasing and improving food and nutrition by intensifying meat production.
"Zimbabwe had around 10,000 dams and they are now less than that because we lost more than 280 last season due to flooding," said Muchinguri-Kashiri.
"If we have above to normal rainfall we are likely to lose more (dams) because of poor maintenance.
"However, we are looking into (the issue) to ensure that we source all the required finances to repair and maintain some of those threatening dams."
Zimbabwe experienced excessive rains during the 2016-17 season, causing floods which also adversely impacted key infrastructure such as roads, leaving many impassable.