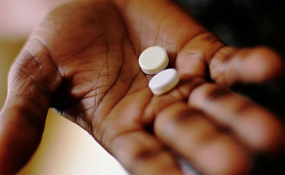 Photo: Kate Holt/IRIN
By Selma Ikela
Windhoek — Some people living with HIV and AIDS are a hinderance to government efforts to contain the spread of the virus as they are apparently in the habit of throwing away their antiretroviral therapy tablets.
Government spends millions of dollars on providing ARVs for free.
A community member from Okahandja Park informal settlement Cornelia Hangula came across a single dose of tablets, including vitamins, wrapped in a plastic bag discarded close to municipal bins yesterday.
Hangula said this is not unusual as some people are known to dump their ARVs.
Hangula, who serves as a HIV community activist as she herself lives with the HIV virus, said people living with HIV who throw away ARVs do so because they have no food to eat at home or they have started a new relationship and are ashamed to take their medication.
Hangula said the tablets give people an appetite and it hard for those who don't have food all the time to take their medication.
"If you drink these tablets, you just want to eat all the time. I think this medication is prescribed to be taken at night," she said
Hangula added most organisations which fought and supported people with HIV and AIDS no longer exist as they closed shop because funds from donors dried up, hence some people have stopped getting free food.
Hangula noted that some living with HIV do not benefit from the food bank where free food parcels are handed out.
The Ministry of Health and Social Service could not be reached for comment to share its views on how this discarding of ARVs could hamper their efforts to fight the spread of the HIV virus.