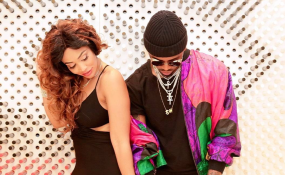 Photo: Diamond Platinumz/Instagram
As the rest of the world was celebrating love, exchanging gifts, flowers and lips, a heartbroken Zari Hassan was typing a post announcing her break up with Tanzanian Bongo flava sweetheart Diamond Platinumz.
"Understand that this is very difficult for me to do. There have been multiple rumors some with evidence floating around in ALL SORTS of media in regards to Diamond's constant cheating and sadly I have decided to end my relationship with Diamond, as my RESPECT, INTEGRITY, DIGNITY & WELL BEING cannot be compromised. I will continue to build as a mogul, I will inspire the world of women to become boss ladies too. I will teach my four sons to always respect women, and teach my daughter what self-respect means," Zari Posted and followed it with a picture of a black rose, normally given to the dead or a sign of dead love.
Before the announcement, the couple had made millions of followers feel a twinge of envy for their seemingly perfect relationship. Please visit our sister publication Sqoop for detailed analysis of the story: Had the Zari-Diamond affair ended long before Valentine's Day?