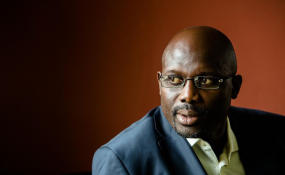 Photo: George Weah
By Lennart Dodoo
Monrovia — President George Weah's former teammate, Dionysius Sebwe, is claiming he's being witch hunted by the ruling party and has already faced intimidation from the Liberia National Police (LNP) due to his political differences with the President.
Sebwe was arrested by the LNP last Saturday in Buchanan, Grand Bassa County for alleged misapplication of entrusted property.
However, the former national football team's defender believes his arrest was orchestrated by members of the Coalition for Democratic Change (CDC) as a means of humiliating him due to his political views about the President during the campaign trail in 2017.
He's one of several former Lone Star players and teammates of Pres. Weah who pledged support to former Vice President Joseph Boakai's Presidential bid before the elections in 2017.
Explaining his ordeal to FrontPageAfrica, he recalled that he had gone to Buchanan to pay some workers of a Ghanaian company - BCM International - which he has been representing as their country manager.
"I arrived in Buchanan, Grand Bassa County, to pay current employees of BCM International and former employees of OSC."
" We arrived in Buchanan (around the Monrovia parking area) at 6p.m. to travel along with Hon. Thomas Goshua to make the payment," he explained.
According to him, he had gone to the Police depot near Monrovia Parking in Buchanan to seek the company of at least two Police officers to accompany him to the payment site.
"As a precaution, we decided to request a Police officer from the nearest depot to accompany us. When we arrived at the Police depot within the Monrovia parking area, I was told by the Police that their bosses had issued instruction for my arrest.
In less than five minutes, the commander of the LNP regiment in Buchanan, Alex Saye, showed up to enforce the instruction from their bosses at Central Police Station," he explained.
He told FrontPageAfrica when he inquired about his arrest - the crime he had committed and on whose orders he was being arrested - he was told by the Buchanan LNP Commander, "It's above my head; I was just instructed to have you arrested."
Sebwe was then informed that Unit 106, Deputy Police Commissioner Charles Blake, was the focal person coordinating his arrest from the Police Headquarters in Monrovia.
Dionysius: "I called Unit 106 immediately."
He informed me that his bosses had also instructed him to arrest me. When I inquired about the charges, he said I was being charged for 'Misapplication of Entrusted Property.'
"I said whose property? He cautioned me to comply with the instruction and would find out when I got to the Central Police Station in Monrovia. I pleaded with Unit 106 to allow me accomplish the task for which I was in Buchanan but he refused and insisted that I must leave everything and come immediately to Monrovia along with the LNP officers."
Dionysius, who once served as Deputy Minister of Defense for Operations and also Deputy Minister of Youth and Sports during the regime of Madam Ellen Johnson-Sirleaf, said he and the Police officers drove back to the Police headquarters in Monrovia and arrived at about 9:30 p.m. that Saturday evening.
Commissioner Blake arrived 30 minutes later, he said.
"When Unit 106 arrived, I was escorted to his office where he informed me that I had been charged with misapplication of property and misuse of funds for personal use. I said to him that this information was certainly inaccurate.
He replied by saying his bosses informed him that I had taken funds from a company and prevented the company from taking away its equipment out of the country. I, again, informed him that the information was inaccurate," he narrated.
Dionysius went on to explain that he then suggested to Commissioner Blake to call one of the managers of BCM International, who is based in Ghana to ascertain the facts of the matter.
According to him, the manager, Joseph Edmund, was recently in Liberia to arrange the hiring of a 100-ton crane from Bollore to lift BCM equipment, including excavator, bulldozers, among others on the low-bed trailers.
He said when called, Edmund speaking on speakerphone denied ever filing charges against him.
Dionysius: "He [Edmund] mentioned that their management is appreciative of the support I have provided them over the past four years, including supervision of the payment of their employees and other tasks. Unit 106 replied by saying that Joseph's boss, the head of BCM, was the one who filed the charges.
"Again, Joseph said he was shocked to hear this. He said he's confident that his boss would not make such a charge against someone who had been helping their company. He therefore appealed to Unit 106 to release me."
He continued that at about 11:30 p.m. that evening he was asked by Commissioner Blake to write a statement about what had transpired.
He was also informed by Blake that the statement would be taken to his (Blake) bosses upon, which they would advise him on the next steps forward.
Dionysius lamented: "We left his office and asked me to sit on the suspect's bench in some office on the same floor."
"At this moment I really felt humiliated because I did not do anything wrong to deserve this. At their mercy, he instructed the officers to move me from that area to another area instead of having me wait in the jail cell."
"Again, I was shocked that I could have been in a cell that night for an alleged crime I did not commit."
He said the head of the BCM called Commissioner Blake several times to clarify that at no time did the company press charges against him but to no avail.
"Around 3:00 a.m., Sunday morning, the head of BCM International called me to inquire about what she was hearing."
"She confirmed that at no time did she file charges against me; especially with the satisfactory work I'm doing for their company in Liberia. She apologized for the incident and asked for the phone number of Unit 106.
She called him but there was no answer. She informed me that a text was sent. I also called Unit 106 around the same time but to no avail," he explained.
According to him, he was released to his brother Kelvin Sebwe at 8:30 a.m. the same Sunday morning without any explanation about the cause of his arrest.
Suspicious of CDC
Dionysius said he was of the conviction that his arrest was orchestrated by the ruling CDC due to his political differences with President George Manneh Weah.
He said, prior to his trip to Buchanan, the former chairman of the CDC, now Minister of State for Presidential Affairs, Nathaniel McGill, confronted him via mobile phone on the removal of the equipment.
"He called and said, my man the President is concerned about the people's equipment, when are you getting them out of here," he said.
According to Dionysius, the head of BCM, who is also a friend to President Weah was in Liberia during the inauguration and apparently explained the difficulties she was going through getting the equipment out and settling their financial obligations to employees of the company.
"So far since my release, I have contacted lawyers who are determined to seek justice on my behalf. They are considering all legal options.
Absolutely, nothing was proven by the Police to justify my arrest; not even a communication from the company which allegedly filed the complaint," he said.
He expressed fear that if the act of unwarranted arrest and intimidation is not checked, Liberia may end up as a Police state.
Blake Confirms Arrest
Upon inquiry, Deputy Police Commissioner Blake confirmed the arrest of Dionysius.
He told FrontPageAfrica that Dionysius was wanted by the Police because a complaint was filed against him. He, however, could not show FrontPageAfrica a copy of the complaint.
He said, Dionysius was charged with misapplication of entrusted property based on his "failure" to pay employees of BCM and also make preparations to get the company's equipment transported to Guinea and Ghana.
According to Blake, he was instructed by his bosses to arrest Dionysius, but he failed to name who exactly gave the command.
McGill Confirms Involvement
Minister McGill told FrontPageAfrica that he had received complaint that Dionysius was extorting money from the company and holding their equipment hostage and therefore, he asked the Police to intervene.