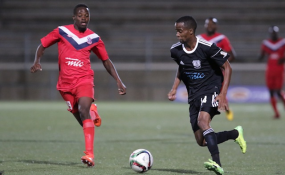 Photo: The Namibian
By Otniel Hembapu
Windhoek — Action in the long-awaited second round of the MTC Namibia Premier League (NPL) will tonight get underway at the Sam Nujoma Stadium when log leaders African Stars confront traditional rivals Orlando Pirates, in what is expected to be a rousing clash.
Tonight's encounter will mark a perfect return to action for both teams and local football fans, as any match between these two rival clubs has never failed to live up to expectations.
The match between Stars and Pirates will be the only league match today countrywide, but action continues tomorrow (Friday) when Citizens lock horns with league champions Tigers, also at the Sam Nujoma Stadium.
Still topping the log with 36 points, Stars kicked off their league campaign on a high note, managing to dominate league proceedings for the better part of the league's opening quarter, and will tonight be expected to continue on the same footing.
But Pirates remain a force to be reckoned with as they currently sit 6th on the log with 21 points, and Stars should expect a fierce battle when they meet tonight.