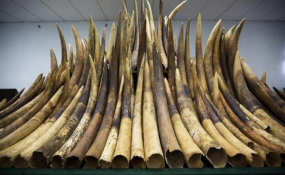 Photo: Daily News
Luanda — At least 21 kilos of ivory estimated at USD 74,000 were seized in Luanda by the Criminal Investigation Service (SIC) in August and October 2017.
According to a press note from the press office of the Environment Ministry, which reached ANGOP on Wednesday, from the said operation also resulted in the detention of an Angolan and two Chinese citizens.
The perpetrators are being accused of being involved in a criminal association, aggression to the environment and smuggling.
The Angolan citizen, identified as 42-year old Marcelo Firmino, was arrested in the possession of 13,25kg of ivory, while the two Chinese citizens were trying to export from Luanda Port at least 5,45kg of uncarved ivory tusks, plus 2,58 kg of sculptured ivory.