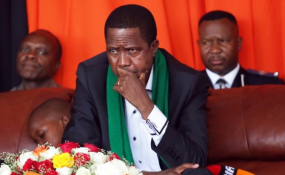 Photo: RFI
By Rebecca Mushota
President Edgar Lungu has made his first major Cabinet reshuffle which has seen Finance Minister Felix Mutati moved to Works and Supply and his place taken by Commerce Trade and Industry Minister Margaret Mwanakatwe.
Agriculture Minister Dora Siliya is now the new Information and Broadcasting Services Minister as well as the Chief Government spokesperson.
Mulenga Kampamba becomes the new Fisheries and Livestock Minister, replacing Michael Katambo who will now head the ministry of Agriculture.
President Lungu has fired Water Development, Sanitation and Environmental Protection Minister Lloyd Kaziya.
Mr Kaziya has been replaced by General Education Minister Dennis Wanchinga.
The President made the changes in a statement yesterday, marking his first Cabinet shake-up since appointing Cabinet after the 2016 general election.
The statement was issued by Special Assistant to the President for Press and Public Relations Amos Chanda.
The President has also appointed Patriotic Front (PF) Parliamentary chief whip Richard Musukwa as the new minister of Mines and Minerals Development taking over from Christopher Yaluma who moves to Commerce, Trade and Industry.
David Mabumba becomes the new General Education Minister from Energy.
The minister of Works and Supply Mathew Nkhuwa moves to Energy in the same capacity.
The President has swapped Copperbelt Minister Bowman Lusambo with his Lusaka Province counterpart Japhen Mwakalombe, while Nathaniel Mubukwanu of Western Province swaps with North Western Province Minister Richard Kapita.
Mr Chanda said that all changes were with immediate effect.