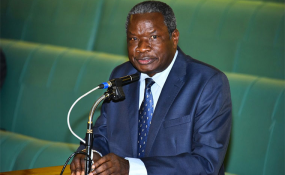 Photo: The Observer
By Moses Kyeyune
Parliament — Parliament on Thursday tasked the ministry of Internal Affairs to explain the whereabouts of Mr Charles Etukuri, a New Vision reporter and Rev Isaac Baka.
Mr Baka, a veteran journalist formerly employed by the BTN Television and Nile FM has been missing for close to six months while Mr Etukuri is said to have been "abducted" on Tuesday as he left office at the Vision Group on First Street, Industrial Area.
The matter was raised by the Lwemiyaga County MP, Theodore Ssekikubo (NRM) as a matter of "urgent national importance."
"What has happened to the journalists? Where is Etukuri who was arrested as he was going about his duty of reporting?" asked Mr Ssekikubo.
"If he has broken any law, he should be produced before court. Where is Rev Baka? Has the country sunk back into the dark days?" he added.
Mr Ssekikubo's concerns were fanned by other lawmakers; Joseph Sewungu (DP-Kalungu West), Jacqueline Amongin (NRM- Ngora district) and Ms Mary Babirye Mary Kabanda (DP-Masaka).
The lawmakers accused the government of looking on as journalists become prey of "conflicting" security agencies.
"I am wondering why Mr Etukuri was arrested and he has not been charged of anything," Ms Amongi said.
However, the minister of state for internal affairs, Obiga Kania told Parliament that he's aware of the development and that police were investigating the matter.
"It is their duty to trace Etukuri and if he is being kept by a government agency yet he has not been charged, it is our duty to make sure that he is produced in court for whatever wrong he has done and that is the process we are on," he said.
He however, said that the process of tracing an abduction case is a technical one that requires a lot of time for responsible authorities to investigate.
Sources at the New Vision say Mr Etukuri was abducted by men dressed in military fatigue and it is upon this background that the lawmakers demanded for government explanation.
The deputy Speaker, Jacob Oulanyah tasked the Minister of Defence and Veteran Affairs, Mr Adolf Mwesige to explain.
However, the minister said a mere semblance of military wear should not be concluded for the army uniform.
"As you know, even criminals and wrong doers are capable of putting on clothes similar to military uniform and this has happened before," Mr Mwesige said.
Meanwhile, the legislators also asked the government to explain circumstances under which two Korean nationals were allegedly killed in Kampala hotels but the ministers said the issue was under investigation.
Given its security nature, Mr Obiga said, a quick un-synthesized response would not suffice.