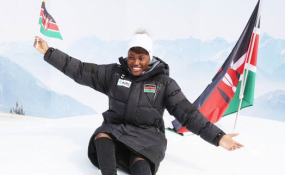 Photo: Nairobi News
By Brian Yonga
Kenya's lone ranger Sabrina Wanjiku Simader on Thursday had a respectable debut at the Winter Olympic Games on the slopes of Pyeongchang, South Korea.
The 19-year-old Austria-based Kenyan finished in a respectable position 59 from a starting rank of 67 with a time of One minute, 23.27 seconds in the giant slalom competition.
The event, which had earlier been scheduled to be held on Tuesday, was postponed due to strong winds at the Games venues.
Wanjiku, who started number 67, which is based on ranking by start of Olympics, was at positon 59 after the first round, during which six athletes fell.
SOME BRUISES
In her second round, she fell at the turn of one of the "bridges" ending up with some bruises.