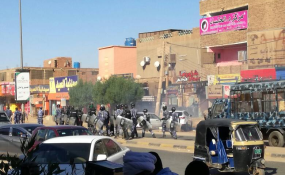 Photo: Radio Dabanga
Suakin — A man from the historic port of Suakin in Sudan's Red Sea state has reportedly been arrested for posting a video to Facebook satirising Sudan's President Omar Al Bashir.
Callers told Radio Dabanga that agents of the National Intelligence and Security Service (NISS) arrested Khalid Hassan Hamad from his home in Suakin yesterday.
In the video, Hamad is seen ridiculing several speeches made by Al Bashir in Port Sudan, in which he promised citizens of Port Sudan to deliver water to their city directly from river Nile.
Suakin was an important port on the Red Sea during the Ottoman occupation of Sudan, but has since lost importance to Port Sudan. Suakin suffers chronic water shortages and an unreliable power generation system.
In the video (above), Hamad mimics Al Bashir: "People of east Sudan, we will facilitate providing tap water for you, Insha'Allah.
Hamad: "We will bring water from Atbara (on the Nile..) or if necessary from Al Abiedia.
"We have discussed this issue and we made budget free, the people will come soon to implement this project, every house is going to have tap water.
"And the people of Suakin, they have special place in our consideration, we will bring them electricity, water, and education Insha'Allah.."
"And as my comrade the martyr Alzubeir Mohamed Saleh ever said: if you see us driving vehicles with shaded glass, and if you see us build luxury villas, then you should know we get corrupted.
"And people of Port Sudan and Suakin if we fulfil these promises within five years from now, I will shave my moustache (expression used when you want to challenge a liar), we are just making a show."
The video ends with Hamad dancing to a famous folk song calling for war and praising bravery.
Turkish control
Leaders in eastern Sudan have harshly criticised the Sudanese government for agreeing to hand over the management of the historic Suakin Island, Sudan's former main port on the Red Sea, to Turkey.
In an interview with Radio Dabanga in December 2017 , eastern Sudanese civilian leader, Abdallah Musa, called on the government to be transparent and to give the citizens and residents of the region details of the agreement made with Turkish President Recep Tayyip Erdogan on Suakin.
Musa was reacting to comments by Erdogan during a three-day visit to Sudan in December. At the end of an economic meeting between Sudanese and Turkish businessmen on the second day of his visit, Erdogan said: "We had asked for the allocation of Suakin Island for a certain time to re-establish it and restore it to its old origin to which President Al Bashir said yes".
A compilation of Al Bashir's speeches of the genre satirised by Khalid Hassan Hamad
*Suakin was formerly Sudan's foremost port. Suakin used to be considered the height of medieval luxury on the Red Sea. The port was also prominent during the period when Sudan was part of the Ottoman Empire during the 19th Century, but the old city built of coral is now in ruins.