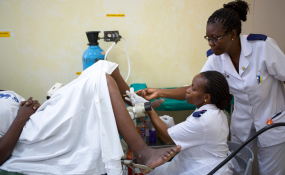 Photo: Gavi, The Vaccine Alliance
By Tewodros Kassa
Cervical cancer has become serious and sensitive issue among women; most women suffer from this disease due to lack of awareness on pre-cancer treatment, says Fetiya Delgeba, Gender Mainstreaming and Beneficiary Director with the Ministry of Women and Children's Affairs.
"My best friend's mother had fallen ill and taken to hospital. Unfortunately, she was diagnoise as having cervical cancer. Physicians attempted to control the disease, but their attempt did not bring good results. The cancer had developed to a third stage of cancerous cells-- a severe stage. Within a short period of time, the woman's situation worsened, hastening her downcast in life," she recounts pityingly.
"I fall short of words to describe her situation, she was so desperate... and eventually passed away," she adds.
Had she been well aware of the preventive care, she could have lived more, she regrets.
The woman's death scared every family member and relative and gives the female members a lesson on the pre-cancer treatment--despite a bitter lesson.
Every woman has to get screened to prevent this disease, she says, adding that pertinent government and private bodies has to avail the services as well.
In Ethiopia, numerous cervical cancer patients get access to cancer screening and treatment services at Tikur Anbessa Specialized Hospital while most others prefer traditional 'treatment' to the modern one, explains Dr. Ezkiel Petros, a Gynecologist Specialist at the Family Guidance Association of Ethiopia (FGAE).
Basically, it is clear that having pre-cancer and other diseases' screening and treatment tests are advisable to maintain maternal health, he adds.
Currently, several cancer-fighting societies have emerged in Ethiopia. "They are working to mollify both the pain and adversity of patients."
Any sexually active women who are over the age of 25 could be prone to cervical cancer, and the societies raise the awareness of women on the disease, he adds.
"To tell the truth cervical cancer is the worst disease for me. Because it is complicated to screening First, it has no any easily detectable symptoms. Second, symptoms can be noticeable after its spread to the entire body parts. Third, its treatment is not that much effective."
In addition, cancer treatment is not only burdensome to the patient but it also gives hard time to families, friends and relatives.
Thus, the pre-cancer treatmetn is the most effective mechanism to prevent the disease.
Dr. Ezkiel, however, does not shy away from mentioning challenges pertaining to pre-cancer dignosis.
"Several factors are hindering Ethiopian women from accessing pre-cancer screening and treatment."
Cultural influence such as introvert personality or shyness and fear of stigma can be some of them.
Availing information and promoting culture of discussion on the issue help to embolden more women to go to nearby hospital for treatment.
"Over 90 percent of women who receives pre-cancer treatment avoid complications."
Negligence to pre-cancer screening is tantamount to failure to manage one's own life, he recommends.
If one fails to treat cancer at an early stage, the cancerous cells distribute to the entire body cells, and complete their four stages.
The first and second stages of cervical cancer can be treated by surgery. The third and fourth stages need radiation and chemotherapy treatments. These stages are preventable [80-90 percent].
But, still people should take all the necessary treatments, he adds.
But at the third and fourth stages, the cervical cancer is 50-60 percent preventable, patient's safety and continuous medical follow up are mandatory for a recovery from the disease, he recommends.
Cervical cancer is different from other types of cancer diseases in various ways. It is easily detectable, might last for longer period before turning into cancer and spread to other organs, he underlines.
Working on preventive efforts of cervical cancer is much cost effective. And the disease is easily curable during early stages.
Currently, cervical cancer treatment is also becoming manageable through vaccination, he notes.
Most importantly, the government and other stakeholders should work hard to avail the pre-cancer treatment in all parts of the country.
Smoking cigarette, drinking alcohol, unhealthy diet, physical inactivity, and environmental risk factors such as radiation as well as exposure to some industrial chemicals like insecticides are among the factors leading to growing cancer related deaths.