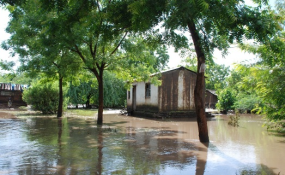 Photo: MANA Online
By Sam Majamanda
Phalombe — Vice President Saulosi Chilima who is also Minister of the Department of Disaster Management Affairs on Thursday reaffirmed government's commitment to bail out the country's citizens from the curse of natural disasters.
The Vice President was speaking at Phaloni Primary School when he cheered victims of floods that occurred in the district last week end, displacing over 400 people.
The heavy downpour on Friday led to floods in Phaloni area in the district which damaged over 70 houses. The situation forced the households to seek refuge at Phaloni Primary School.
Addressing the victims, the Vice President sympathized with the affected people, while promising that his government would not leave them alone in the time of their suffering.
"I want to assure you that government is concerned with the rate at which natural disasters such as these are occurring. While responding to these occurrences, government is the process of employing long term measures to minimize the impact of disasters," said Chilima.
He added that government was looking into ways of improving the way dykes are constructed to ensure that floods do not affect people in places where dykes are constructed.
One of the flood victims, Felix Machapa, expressed gratitude to government for its timely response in collaboration with non-governmental organizations.
Machapa said the dyke, which was constructed in the past, failed to control the water owing to its magnitude, hence the need to raise it or create gullies to divert the water from Namphende River away from the dyke which is meant to control the flow of water.
"We believe that raising the dyke higher or creating artificial gullies to direct the water away from our households would ease the problems which have affecting us almost every year," Machapa explained.
Barely three days after the floods occurred, Phalombe District Council, with assistance from Non-governmental Organizations such as United Purpose, provided maize flour, blankets and medical assistance to ensure people are still living comfortably.
District Commissioner for Phalombe, Gossam Mafuta, commended government for timely responding to the disaster by providing relief items to the victims.
The Department of Disaster Management Affairs donated 290 bags of maize of 50 kg each, 300 Kilograms of salt, 290 plastic pales, 2900 metres of plastic sheet, 1 160 plastic plates and 580 blankets.