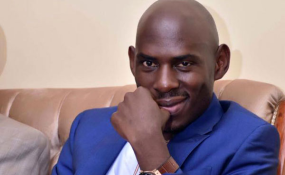 Photo: The Monitor
By Tom Malaba
Kampala — Kampala socialite Sulaiman Kabangala alias SK Mbuga has been moved from Dubai airport to Awir Central Jail in Dubai.
Sources in Dubai have told Saturday Monitor that the move followed Mr Mbuga completing 14 days on remand as investigations into his case ensued.
At Awir Central Jail, the sources said, Mr Mbuga is expected to get more freedom to move around, sleep comfortably contrary to conditions he was being held under at Dubai airport.
Information we could not independently verify indicates that Mr Mbuga admitted to the charges brought against him and that he is now waiting for sentencing when he appears in court. It is expected that Mr Mbuga will either be required to refund the money he is alleged to have stolen, or go to jail, or both.
Mr Mbuga is being held over accusations of fraud and money laundering in a gold deal gone bad.
At the time of his arrest recently, Mr Mbuga had just resumed working following an accident in Kampala in which he broke his legs. Our source in Dubai said he will have the metals that were fixed in his legs, following the accident, removed from a hospital in jail.
Mr Mbuga was in June last year involved in a nasty accident while testing his new BMW motorcycle and was admitted to Nakasero hospital where metals were fixed in his legs.
It is not yet clear whether Ugandan diplomats have now been in position to meet Mr Mbuga. The last time they sought to meet him ended in futility because Uganda has never ratified the consular treaty as required by the Geneva Convention.
It is also not clear whether Mr Mbuga might be taken to Sweden where he is wanted for alleged fraudulent transfer of Norwegian Kronor 53m (Shs23b).
The charges
Mr Mbuga, 34, and his wife Angella Vivienne Chebet, 33, have been on the wanted list of International Police (Interpol) and America's Federal Burau of Investigations (FBI) in connection with the alleged fraudulent transfer of the money from a company account Ms Chebet was running with her 71-year old Swedish boyfriend, Sten Heinsoo.
Mr Mbuga's lawyers declined to discuss the matter with Saturday Monitor.