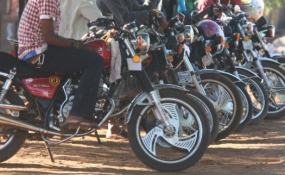 Photo: Daily News
By Frank Kisakye
Boda Boda cyclists have this afternoon closed off Tufnell Drive in Kamwokya for almost 30 minutes as they shared money supposedly given to them by music promoter Sipapa (Charles Oryem).
At about 2:20pm, a fleet of at least 100 rowdy cyclists ascended Tuffnell Drive chasing one unidentified man who is believed to have received the money at 10am this morning but had refused to share it.
When they caught up with him at the tail end of Tufnell Drive, just adjacent to the perimeter wall of The Observer newspaper premises, they started aggressively demanding for their money.
Some grabbed his collar as others tried to search him for 'their' money. Some residents first thought that someone had stolen a motorcycle and was about to get lynched. They wanted to call police but later learnt that these were just cyclists sharing their bounty.
"Omugagga Sipapa gave us Shs 3m at 10am at Meat Packers (in Industrial Area) from but the man has been evading us since then. We just want our money; he can't cheat us," said one angry cyclist.
In the process, they cut off all traffic and no oncoming traffic could continue down to Mawanda road. Cars started using Tagore Crescent as the cyclists parked in middle of the road and started receiving Shs 5,000 each from the unidentified man.
While the money was primarily given to cyclists in the area surrounding Meat Packers, even those that joined the chase through the City Centre to Kamwokya lined and received a share.
Others were seen going for double payment since there was no order or roll call. But some were less than pleased.
"We have been chasing this man since morning and he just gives us just Shs 5,000. He has cheated us. The rich man gave him more money than this," said one cyclist.
The road slowly cleared as whoever received the money sped off to return to respective stages or look for customers. It is unclear why the promoter gave them this money. With the increasing scramble for fame in Kampala and Uganda at large, many people have been seen dishing out money to adoring crowds.
It is now common to see the likes of Brian White, SK Mbuga, Maama Fiina, Godfrey Kirumira dolling out money for no good reason.
Some commentators have related this to Uganda's desperate, poor population surviving on hand-outs chiefly championed by President Museveni.