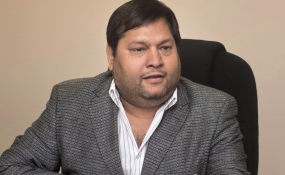 Photo: Wikipedia
Part of the controversial Gupta family and now fugitive, Ajay Gupta can run, but cannot hide, said Police Minister Fikile Mbalula, who ordered police to ensure that he does not leave South Africa's borders.
Wanted for charges relating to allegations of fraud and corruption over Estina Farm Community Project in Vrede Free State, Mbalula said police are satisfied that the Gupta brother is fully aware that he is wanted by police, but has failed to hand himself over, and has therefore been declared a fugitive from justice.
"At this point, I have directed police to make sure that none of the suspects gets smuggled out of the republic's boundaries and that our border posts be vigilant," said Mbalula in a statement on Saturday evening.
"I am also aware of the many smuggling routes of our porous borders within the region, and we are liaising with our regional counterparts for cooperation in this regard - his take-down operation is proceeding, he can run but he cannot hide."
EXCLUSIVE: Guptas' Sahara Computers closed, abandoned
Hawks spokesperson Brigadier Hangwani Mulaudzi told News24 on Friday that they believe Ajay Gupta is still in the country. Management at OR Tambo International Airport, however, confirmed to News24 that there are records of Ajay leaving the country.
"We can confirm that we have records of Mr Ajay Gupta, who was on Dubai-bound Emirates flight on 6 February 2018 at 20:30," spokesperson Leigh Gunkel-Keuler said.
She said they were currently in the process of handing the information over to the Hawks. Gunkel-Keuler said if Ajay was back in the country - he might have re-entered through other ports of entry and not OR Tambo.
Not in the country
Sarah-Jane Trent of Forensics for Justice said they were able to confirm, beyond a reasonable doubt, that the three Gupta brothers are not in South Africa and that their aircraft has been located outside of Africa.
On Thursday, as police searched for Ajay, seven of the eight people arrested by the Hawks during raids at Gupta compounds this week were granted bail in the Bloemfontein Regional Court.
State officials Peter Thabethe, Sylvia Dlamini and Takisi Masiteng were each granted R10 000 bail. Meanwhile, Gupta-linked suspects Varun Gupta, Ronica Ragavan, Nazeem Howa and Ashu Chawla were each granted R200 000 bail. Mbalula said of the 13, five remain at large, three of which are believed to be out of the republic.
"Mr Ajay Gupta being the one of the five, police are satisfied is aware of his warrant hence his naming," said Mbalula.
An affidavit has revealed that Free State's agricultural department - then under current Mineral Resources Minister Mosebenzi Zwane - allegedly paid R220m to the Guptas and some of their associates in what the Asset Forfeiture Unit calls a "scheme designed to defraud and steal monies from the department".
One hundred black emerging farmers were promised five cows each as part of the empowerment scheme, but they never received them.
Gifted to the Gupta-linked Estina in 2013 under a free 99-year lease by the provincial agriculture department, the farm has been one of the most scandalous transactions between the Guptas and a government entity.
The #GuptaLeaks revealed in 2017 how at least R30m, paid to the Guptas via the farm ended up funding the family's lavish Sun City wedding in 2013.
Mbalula has also noted various cash rewards offered by private individuals for capture of the suspect and wishes to discourage and disassociates government from such rewards.
"These rewards are not helpful and may result in the endangerment of the suspect, lookalikes and the general public," said Mbalula. "South Africa remains a law and order society, and the public is urged not to take the law on its hands, the cash rewards on catching Mr Gupta are not sanctioned by government and we are discouraging such activity - South Africa is not a wild wild west."
Source: News24